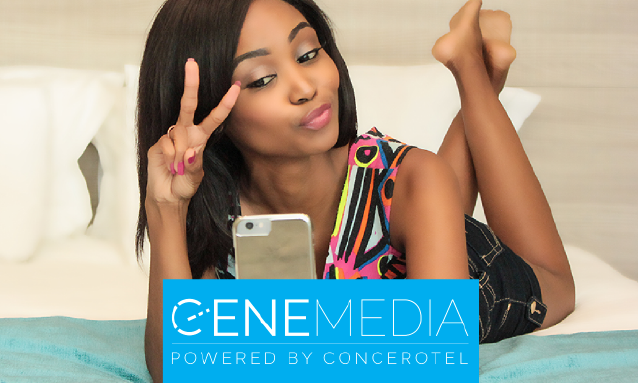 As we all know, internet access in Botswana is not only expensive but also not as fast as we'd all like it to be. At a time when internet access has become a basic necessity for most people around the world, most Batswana still struggle to cobble together the eye – watering fees the local ISP providers charge. Of those who can afford the hefty bills, complaints about intermittent and slow as a snail Internet (among others) still abound. To make matters worse, customers have to contend with less than adequate customer service delivery from the existent providers; this in spite of Botswana having countless ISPS providers.
Enter new kid on the block; CENE Media and Batswana's internet access woes may well be a thing of the past. Headquartered in Australia, CENE Media marketing collateral promises impeccable customer service delivery as well as fast, affordable internet services. You may have seen the adverts at bus stops across Gaborone, you may have not; but either way, CENE Media is here to shake up the local internet market and hopefully offer Batswana a viable and affordable alternative to the already existent internet services, none of which are quite delivering the full package, so to speak.
So what does CENE Media promise that isn't already being offered? We at YourBotswana are honoured to have had the opportunity to chat with Lisa Evett, CENE Media's Senior Marketing Specialist on the company's offer.
*Check out CENE Media's special offers at the bottom of this post!
---
Hello Lisa, and thanks for talking to us. Can you tell us briefly about CENE Media; what is CENE Media and what does it do?
CENE Media (capital CENE) is a new and exciting internet Service Provider (ISP) that is backed by an international team that spans global time zones. We employ around 20 Batswana in a variety of roles from technical support, finance, sales to engineering. We have our Research and Development Headquarters in Australia, and we are backed by ConceroTel, a leading telecommunications company. This ensures we are bringing the best and newest telecommunications technology right here to our satellite teleport at the Botswana Innovation Hub.
We provide state-of-the-art internet and communications solutions to governments, large corporations (including companies like Panasonic), SME's and individual households to ensure Batswana are accessing world-class internet services. This enables businesses to compete internationally and connect around the world, increasing their potential customer and revenue base, which is a good thing for all of Botswana.
In Africa, CENE Media has a presence in Zambia and Botswana only… why Botswana?
Our founder and Managing Director, Mr Mark Sprey has a long history in telecommunications and a chance meeting in Johannesburg led to him identifying Botswana as a great country in which to invest. He has since invested over a million US dollars in setting up our satellite teleport at BIH and has been a regular visitor to Botswana since 2010. He applied for a licence in Botswana and then Zambia, so they are currently the two African countries in which we operate. We recently welcomed a new CEO to CENE Media, Mr Niall Downey who was previously managing BeMobile (Vodafone) in the Pacific Region. Mr Niall is from Ireland and one of our staff members is Canadian so we truly have an international team.
Botswana is also a safe, secure and economically stable country, which is attractive to international businessmen such as Mr Sprey. Perhaps, as the company grows we will expand into other African nations – watch this space!
Botswana has countless ISP providers; do you think there's room for more?
Absolutely. Competition is a good thing. Competition brings lower prices and increased service offerings from providers. We have seen our competitors increase their advertising as we have increased our presence here. We also have the advantage of market foresight – like I said before, we are experiencing here in Botswana what Australia experienced 5 or more years ago. It means we know what the usage trends will be, and we can offer what customers will come to expect, such as faster connections and a more reliable service.
What else does CENE Media do differently that sets it apart from its competitors?
Our Board of Directors is genuinely interested in helping every Motswana. They have plans to assist in all sorts of ways including fostering entrepreneurship and making reliable internet access affordable. We also hold seminars and workshops on occasion and our Senior Marketing Manager from Australia did a Women's Empowerment Workshop when she was here last year and will do one again when she next visits.
Our main point of differentiation is our excellent customer service. When customers give us testimonials and refer us to our friends, we know we are doing a good job. It's a bit of a secret, but in the not too distant future we will be offering an additional service everyone will want – so stay tuned, it's going to be very exciting.
Fantastic, we can't wait to find out what that is!
It can sometimes feel like local service providers are all about the bottom line and not so much about customer retention and building customer loyalty through tasty promotions. So that's very refreshing to hear. Now, internet access in Botswana is mediocre at best, but extremely expensive. Naturally, Batswana are frustrated by this; why should they choose CENE Media over their competitors?
Unfortunately, the wholesale cost of internet in Botswana is very expensive by world standards. To give you an example, wholesale internet here is 10 times more expensive than it is in Australia. What that means is that ISP's have to pay a lot of money upfront to then onsell internet to customers. So from the beginning customers have to pay more for Internet in Botswana than other countries.
CENE Media is a bit different to other ISPs in Botswana as we have our own infrastructure, which is independent and not reliant upon the BOFINET network. This means we can respond quickly to any issues that may arise and we have direct access to our equipment to repair it in the unlikely case of a problem.
We also do not operate or offer a mediocre service. Our internet speeds and service reliability are consistently higher than our competitors and our business customers on dedicated services experience world-class and internationally comparable speeds.
As far as why people should choose CENE Media… we are really like a big family and we care about our customers and giving them a fantastic experience when they are online. We have a fully automated service, which means signing up, paying and continuing as a customer is fast, simple and requires little effort. We can install new services quickly and we are expanding our network and service offering as we grow the company. Plus, we are a fun and enthusiastic team – why wouldn't you want to be a part of it? 🙂
That's great because there is a distinct lack of quality customer service delivery and support in Botswana. Please paint a picture for me, as a potential CENE Media customer, what sort of customer service can I expect from you?
It's best to hear straight from one of our customers of their experience with us:
"Great service. Fast installation. Responsive support team. Helpful tech team. I'd like to compliment you and your colleagues, support, techs/installers, for being responsive and very helpful. All round very professional. Special thanks to the tech that come out today."
You may have seen our billboards and bus stops across town and we have our local Brand Ambassadors Sadi and Nijel Amos.
As I have mentioned, Customer Service is paramount to us. We respond to your initial query very quickly, whether that is by calling our office on 395 6992, sending us a Facebook message or an email to sales@cenemedia.com then we will explain our services to find the best data package to suit your needs. We then organise a site survey to ensure we can connect your premises and then we quickly arrange connection within 48 hours. Our customers can pay online via credit card, or via their phone on 174 pay or by invoice or cash.
Customers are free to cancel at any time and they can also upgrade to the next plan if their data needs increasing.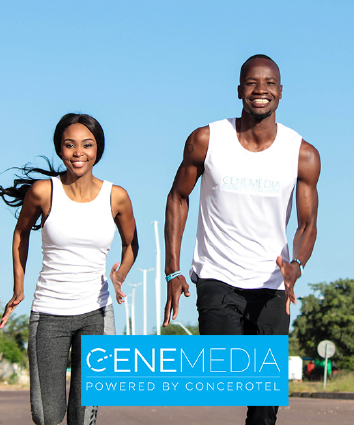 You mentioned our very own local celebrity, Nijel Amos… I think I know the answer to this question, but what was the line of reasoning behind your choice of Nigel Amos as CENE Media brand ambassador?
All of our photos using Nijel are to do with the speed of our internet service. We believe we offer a faster internet service, hence our decision to use him.
When did CENE Media Botswana start operating?
2015 was our first year of operation. ConceroTel, our parent company started operating in Botswana in 2010 and supplies secure telecommunications services to large corporations and governments. ConceroTel also operates in other developing regions around the world.
What challenges (if any) have you faced since you started operating in Botswana?
Many! The processes and logistics involved in supplying internet are complex and varied. We were essentially introducing a "new" business model to Botswana so finding the right staff and the right contacts in Government has taken time, but we are now in a position to deliver on our mission and vision.
How far across Botswana do your services extend? Any plans to go nationwide?
We are nationwide. However, we only offer high-speed satellite internet to areas outside of Gaborone and Palapye.
"CENE Media leads the way in telecommunications, connecting and enriching lives around the world with innovative, efficient and reliable services. Through our commitment to customers, constant innovation, respect for the planet and people, we aim to exceed expectations and meet challenging goals by engaging the talent and passion of people, who believe there is always a way. "
Lisa, thank you for your time and all the best!
---
Having been to the CENE Media website, it does appear to have an attractive offer; the fastest internet speed than I've ever seen in Botswana at more competitive prices than any of the existent ISP providers. The two main things that I find most appealing are the fact that they appear to have a strong desire to deliver excellent customer care, something that I strongly feel should be the norm.
Of course, I won't know for sure that they do make good on their word until I've tried their services. But being an experienced Customer Care Specialist, there are certain aspects of their offer that indicate to me they are serious about customer service. I also like the fact that customers may terminate at any time, a first for me in Botswana!
Before you saw this article, had you heard of CENE Media? Would you sign up with them? Well, if you want to sample their services, they have not one, but two fantastic promotions running this month and the next! Please share your views with YourBotswana and/or share the article.
---
For June and July, we have TWO SPECIAL OFFERS!!
Warm up this winter with hot data deals, 50% off your home data 12GB, 15GB, 25GB, 60GB, 130GB and 240GBTURBO plans are eligible. All include unlimited data and free Wi-Fi hotspot data.
For our loyal existing customers, if they refer a friend and their friend connects with us, they get 50% of their next month's subscription!

Please head over to www.cenemedia.com for more information.