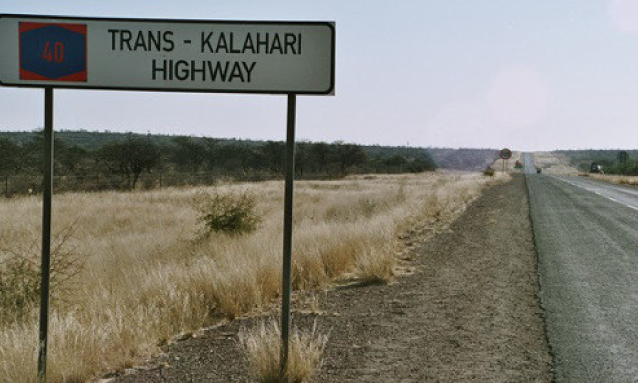 Image source: biznisafrica.co.za
It has recently emerged that the Trans Kalahari Corridor could unlock great commerce and trade opportunities for Botswana, South Africa and Namibia across the tourism, transport and logistics sectors. This came to light at an interactive lecture between Trade representatives from the three countries in Gaborone recently, where it was concluded that the Trans Kalahari Corridor remains untapped and underutilised by the three countries.
Additionally, the gathering found that the existing trade regulations and laws across the three different trade partners; Botswana, Namibia, and South Africa need to be harmonised to complement each other, thus avoiding contradictions.
Botswana Unified Revenue Service –BURS General Manager, Bugalo Mudongo noted that the Botswana national customs authority was on the right track to introduce innovative, digitised ways of delivering services to enhance trade and cross – border business within the region.
"The national trading window intends to link our trading partners electronically as well as interface with our neighbours. The system will also enhance the efficiency of customs collection, improve security, and shorten service delivery times to actually facilitate cumbersome – free, cross – border trade, thus contributing significantly to the economies of the three countries."
Executive Director of the Trans Kalahari Corridor Secretariat, Leslie Mpofu, revealed that some trade laws and other complementing regulations of the three countries such as transport contradicted each other.
"It is important for us to harmonise our trade laws and policies – for example, PrDP (professional driving permit) in South Africa is eligible to 22 – year – olds and above; whereas in Botswana and Namibia it is applicable to 25 – year – olds and above. This means that when a 23 – year – old South African freight/ cargo operator delivers something in Botswana from South Africa, as soon as they cross the border they are illegal," he noted.
Walvis Bay Corridor Group Project Manager, Clive Smith urged Botswana, which is the only landlocked country amongst the three, to tap into the lucrative trade opportunity presented by Walvis Bay. Smith noted that the bay opens up Botswana to a gateway of over 300 million potential consumers for its goods and services.
"We are a strategic location; we are a gateway to South America, North America, and Europe, that's a huge trade opportunity worth billions and Botswana because of its landlocked geographical location can take advantage of the Trans Kalahari corridor and trade agreements by using shipping services at Walvis Bay to access the overseas market," he said.
The Namibia and Botswana governments have already signed a number of agreements on the Walvis Bay. The shortcoming has been that the depot and cargo bay remains unutilised by traders and Botswana business people. Botswana as a member of Southern African Customs Union (SACU) has several trade agreements and advantages it enjoys from the membership. The Trans Kalahari High Way, a corridor that links Botswana, South Africa, and Namibia, is one of the projects put up by the three governments and international partners to help enhance cross – border trade in the region.
The ongoing Kazungula Bridge across the Zambezi River is a project funded by the governments of Zambia and Botswana with the assistance of international partners like Japan. Once complete, Kazungula is expected to slash crossing time tenfold compared to the current setup that requires of the use a pontoon. The same benefits are expected from the multi – billion pula Mohembo Bridge. Botswana has several initiatives designed to improve trade both regionally and internationally.
Factors that have led to the corridor being underutilised include long hours at the border posts, limitation on driving hours on the section of the highway, lack of facilities on some sections of the highway and the people's proximity to animals on the road are all attributed to road users being dissuaded from using the highway.
---
The corridor, which is a tripartite trans-boundary between South Africa, Namibia and Botswana, is a road network spanning approximately 1900 kilometres across the territories of Botswana, Namibia and South Africa.
It starts in the Gauteng Province in South Africa and continues through Rustenburg and Zeerust in the North-West Province, through Lobatse and Kanye in Botswana, the Mamuno and Trans – Kalahari Border Posts, through Gobabis, Windhoek and Okahandja in Namibia and right through to the Port of Walvis Bay. The Walvis Bay Port also houses Botswana's Dry Port, which became fully operational two years back ago.
---
Meanwhile, it has emerged that the Trans Kalahari Corridor has lined up a number of projects to be undertaken in the near future, as it aims to be one of the most efficient transport corridors in the region.
Executive Director of the Trans Kalahari Corridor Secretariat, Leslie Mpofu revealed at a seminar held in Gaborone recently that some of the projects to be undertaken include the Development of Marketing and Communication strategy as well as a Corridor performance Monitoring system.
"We also intend to develop Wellness Centres and Truck Ports in Namibia (Walvis Bay, Windhoek, Gobabis), in Botswana (Charleshill, Kang, Sekoma, Jwaneng, Lobatse,) and in South Africa (Zeerust)" he said.
Mpofu said they also intend to harmonise road traffic laws along the corridor; as well as driver training/testing/licensing standard and vehicle testing standards.
"We are also moving towards the implementation of an integrated bond guarantee arrangement, the harmonisation of Professional Driving Permits (PrDPs), strengthening the security of freight along the corridor to comply with international requirements; (Use of Electronic Logbooks to Improve Efficiency, Safety, Security in Commercial Bus & Truck Industries),"said Mpofu.
South Africa Director of Regional Corridors, Segodi Mogotsi said it is important for them to work together to promote deeper integration by harmonising the three countries' conflicting Regulations and Policies in line with the SADC Regional Indicative Strategic Development Plan (RISDP)
He further revealed that South African Government intends to facilitate review of the SADC Protocol with specific reference to corridors.
"We also want to ensure that every corridor is governed by a Memorandum of Understanding that subscribes to the SADC Protocol and amends the SADC Protocol and customs legislation to legalise use of e-documents and e-signatures," he said.
Reference: weekendpost.co.bw, southernafrican.news