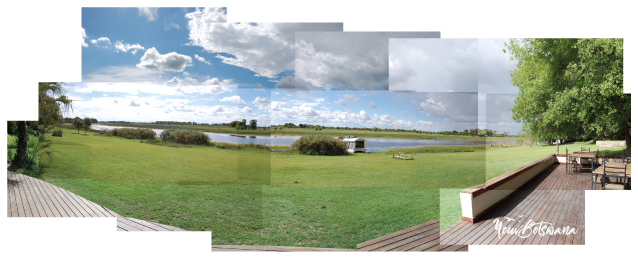 Maun being the centre of Botswana tourism and the gateway to the Okavango Delta has no shortage of lodges to suit all budgets. We last swung by Thamalakane River Lodge in December and found it to be an unassuming but rather charming little gem. If your pockets don't run very deep and you can't afford a trip to the much coveted Delta or the Chobe, you may want to consider a visit to Thamalakane River Lodge, or indeed any of the countless other lodges dotted all over Maun.
Thamalakane River Lodge is very easily accessible from Maun, being about 19km from the town centre. It is situated on the banks of the Thamalakane River, on the way to the Moremi Game Reserve. Although you won't see much in the way of wildlife, the serene ambience, great service, delicious food and excursions on offer more than make up for it. As the lodge overlooks the Thamalakane River, nothing beats relaxing on the restaurant deck, the closest you can get to the river, for a meal or sundowner. The peace and quiet, as well as the stunning sunset on their own, make Thamalakane River Lodge well worth a visit.
---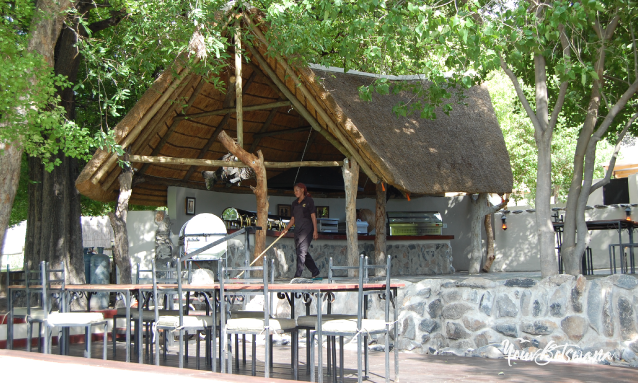 Fantastic high – ceilinged, thatched top roofs help bring the temperature down in the often stiflingly hot Botswana heat. The lodge being right on the riverbank provides a fantastic backdrop for pretty scenery and stunning sunsets Maun and Botswana, in general, are famed for.
---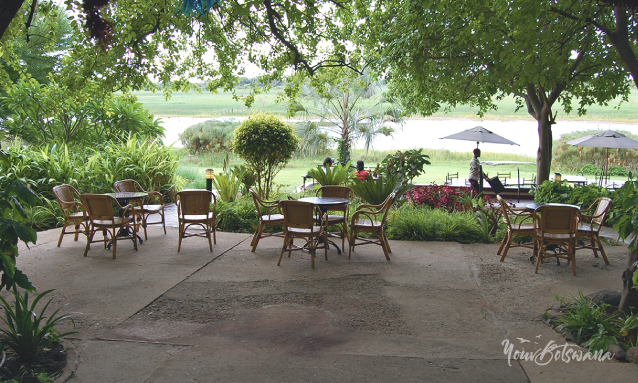 As you enter the car park, you're greeted by thatch-and-stone structures, not unlike many safari lodges. Thamalakane River Lodge has a reception area, curio shop, guest Internet station, booking centre and office. To get to the chalets, you go up the stone steps and sandy paths and through nicely manicured gardens. The main area is in a shaded area, which is also home to a swimming pool. The chalets, public areas and the swimming facility afford guests a 180-degree view of the riverbanks, lined with water reeds that are often visited by various birds.
Food
Thamalakane River Lodge's acclaimed restaurant is something not to be missed. The splendour of the surroundings is matched only by the superb food. In addition to the famous signature dishes of the lodge, diners can also expect to find local seasonal treats on the regularly changing menu. The bar overlooks the pool area and the river, so you get to enjoy a sundowner while watching the water birds come home at sunset.
While there, we had lunch and it was delicious. I had a lamb curry, while my husband had a filet steak. My curry was to die for, but my husband's steak needed 'tweaking' a couple of times. Once we got that little hiccup out of the way, we thoroughly enjoyed the meal and atmosphere. The service was also impeccable. Being big lovers of good quality coffee, we were also impressed with the coffee there.
We're reliably told that during certain times of the day, you can choose between à la Carte or the buffet. We have never sampled the buffet but the fact that it's run by the well known and experienced local restaurateur, Klaas Boll speaks volumes. Not only is he affable and charming, he's run a few successful eateries in Maun for decades. Fittingly, we heard the buffet was well worth a try. It looks like Klaas hasn't lost his touch!
Accommodation
Within easy reach of the Maun International Airport, Thamalakane River Lodge provides a comfortable, mid-range option for those needing to overnight in Maun. It has eighteen chalets with views across the river.
All the chalets feature basic tea- and coffee-making facilities, 220 volt universal plug points, a ceiling or standing fan, mosquito net, digital safe, freestanding wardrobe space, a desk and an en-suite bathroom with a shower. Each chalet has a small patio with outdoor seating and a river view. Limited toiletries are provided as well as insect repellent and spray and mosquito coils.
Additionally, there is also a camping area with powered sites, two permanent furnished tents and shared ablution facilities nearby.
Excursions on offer include…
Trans Okavango Boat Safaris – offers you the chance to explore the Okavango Delta, Moremi Game Reserve and famous Chief's Island by boat
Mobile Safaris -Tailor made mobile safaris to suit every budget.
Full day boat cruise – takes you on the Thamalakane and Boro Rivers on which you're likely to view game and various bird species.
Full day mokoro trip – starts by boat to the Boro River Poling Station for a day out on the water in a traditional dugout canoe. Ideal for keen photographers.
Scenic Flights – these tend to be very highly priced but are equally recommended if you can afford it, as you get a very unique view of the stunning landscape.
Sunset Boat Cruise – a unique way of enjoying the scenery and wildlife. At the very least, you may spot crocodiles and hippos. Ideal for keen photographers.
---
Have you ever been to Thamalakane River Lodge? What was your experience like? Please share your views with YourBotswana.