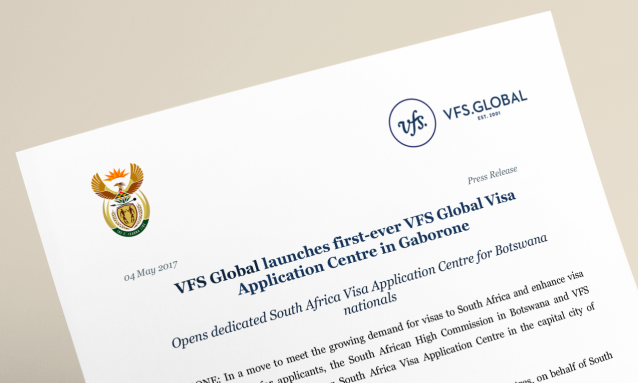 The South African High Commission has in collaboration with VFS Global opened a visa application centre in Gaborone. The centre was launched in Gaborone on the 4th of this month, as part of South Africa's global rollout of visa application centres on behalf of the Department of Home Affairs.
This is with a view to meeting the growing demand for South African visas and enhancing the visa application services. The key features of the centre include convenient and central location, VIP lounge services, Internet access, kiosk facilities, door – to –door delivery of passports, automated queues as well as long business hours.
Additionally, the centre has a dedicated website for easy access to information, a dedicated customer support call centre and SMS services to track visa applications. The centre assures its customers that their passports and other sensitive information will be handled with the utmost security and that they will have at their disposal, professional local staff with to handle queries and any other assistance they may need.
Deputy High Commissioner of South Africa to Botswana, Ms Bulelwa Kiva said the centre would operate for longer working hours than is the norm, and that applicants will be able to submit applications and collect them at their convenience.
"With South Africa being a popular destination for travellers from Botswana, applicants now experience greater convenience and ease when applying for visas through customer-centric and professionally managed services, including the VIP lounge service offered at the centre," she said.
Currently, VFS Global, the world's largest visa outsourcing service provider, serves the South African government in 18 countries across 42 cities.
Ms Kiva said the setting up of 13 new visa application centres across the globe in less than a year signifies the company's strengthening association with the South African government.
However, VFS Global would be responsible only for accepting applications for the South African High Commission in Gaborone, while all applications submitted would continue to be assessed and processed by the high commission of South Africa in Gaborone.
Reference: BOPA