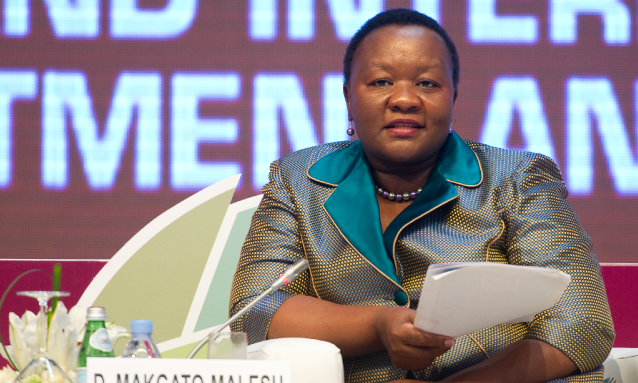 Scores of Batswana in Gaborone this week witnessed the groundbreaking of the planned new private hospital to be called Sidilega Private Hospital. The new hospital, scheduled for completion in 2018, is to be built at Gaborone's Block 7.
The citizen – owned hospital is expected to attract Batswana and the rest of the SADC region for medical and health care services. Speaking at the groundbreaking ceremony recently, Minister of Health and Wellness, Ms Dorcas Makgato (pictured above) said the hospital would add value to Botswana's health sector. She highlighted that the hospital directors had positioned themselves well by targeting the rest of the SADC region. Ms Makgato advised the owners against charging unreasonable prices when the hospital begins its operations.
"Get your pricing and quality right, I have no doubt that Sidilega has the potential to be the healthcare centre of choice in the region," she noted.
She stated that the health sector contributes to economic growth, adding that with the 300 jobs to be created, Batswana would benefit. The minister said competition in the health sector was needed so as to challenge health providers to offer good quality service. Ms Makgato said the new hospital would increase the number of specialists in Botswana and offer some of the services that the government is not able to offer.
Botswana Investment and Trade Centre (BITC) Deputy CEO, Mr Meshack Tshekedi (right) said this was a big project for Botswana, as it carries economic benefits and would create employment. He highlighted that whenever investors come to a country, they look into such issues as infrastructure development and the health sector. He said health contributes hugely to a country's economy and profile.
For his part, Dr Motsholathebe Phuthego, who is a partner in the project, said the idea to build the hospital was borne out of the recognition that there is a gap in the healthcare sector in the region. Dr Phuthego said the hospital would comprise 103 beds offering special care including oncology, physiotherapy, gynaecology, emergency services and Intensive care, among others. He said Sidilega is passionate about healthcare because its directors and owners are medical doctors.
The MP for Gaborone Bonnington North, the Honourable Duma Boko commended the hospital directors for using their expertise to offer more services that are not available in Botswana. He noted that according to the constitution of Botswana, every person has a right to life, adding that health and wellness are part of that life.
---
YourBotswana View
This will probably come as fantastic news for all Batswana. Sadly, Batswana often travel to neighbouring South Africa for various medical reasons because as with everything else, local services are found to be lacking and inferior to what's offered across the border. What's worse, like most other service providers, Batswana often have to contend with ridiculously extortionate fees for services that are at the very best adequate, compared to far better but more affordable services elsewhere. The problem in Botswana is the widely held idea that everything has to be hideously expensive in order to be of superior quality, which often leads to service providers pricing themselves out of business. Subsequently, Batswana cross over to South Africa and elsewhere.
Everyone knows how expensive private healthcare is in Botswana. For instance, many people think long and hard before paying the hefty fees charged by the Bokamoso Private Hospital. Bokamoso had many people in a tizzy when it first opened, with what I'm guessing were wildly exaggerated claims of talking beds and such. Last year I was finally able to go and see what all the fuss is about and was distinctly underwhelmed. I never did see the talking beds.
There were a few reception areas, which were all unmanned. I found the facility wasn't very well signposted and had to navigate my way around the hospital to find someone to give me directions. By the time I found some staff, they were all sullen but did begrudgingly show me the way, after I expressed my discontent at their lacking customer service. Going into the bathroom, I found the doors were malfunctioning and didn't close properly. The floor was flooded with water. I mean, I was left wondering what exactly warranted the extortionate fees I've heard people have to shell out for the privilege of being attended to at Bokamoso. I certainly didn't feel as if I was in a special facility or that people were getting their money's worth. While there's no disputing the high level of expertise at Botswana's private medical facilities, not just Bokamoso, it's also common to hear of the lack of equipment, which begs the question, where does the money they generate go?!
So on that basis, I hope the new Sidelega hospital, once completed, will seek to do much better. I think it's high time Botswana as a whole stopped dumbing down Botswana and moves to start benchmarking against global standards. I agree with Minister Makgatho -It's good that Sidilega will give Batswana more options, but by the same token, the yardstick for quality should not just be about how expensive services are, as it appears to currently be. We definitely don't need more of the same, because that just isn't enough. In my humble opinion, Botswana will only ever start to rival South African services when we prioritise excellent service delivery and access to world standard service at matching prices. Quite frankly, I don't see why that isn't possible. We all need to stop selling Botswana short.
---
What do you think of the new Sidilega hospital? How do you think it will benefit Batswana? Please feel free to share your views with YourBotswana.
Reference: BOPA
Picture credit: By UNCTAD