Image source: makingofchamps.com
Botswana demonstrated that they are serious contenders for GOLD at the upcoming World Championships to be held in London, after a brilliant display from the predominantly youthful side on day two of the IAAF world relays in the Bahamas last weekend.
The men's 4x400m quartet comprising Isaac Makwala, Baboloki Thebe, Onkabetse Nkobolo and Karabo Sibanda put up a highly inspiring performance against powerhouse USA, which had a squad comprising David Verburg, Tony McQuay, Kyle Clemons and the highly experienced former World Champion LaShawn Merritt. Team Botswana had already shown a glimpse of things to come after dominating their heat on Day 1 of the championships with an impressive time of 3:03.09, beating Jamaica in the process.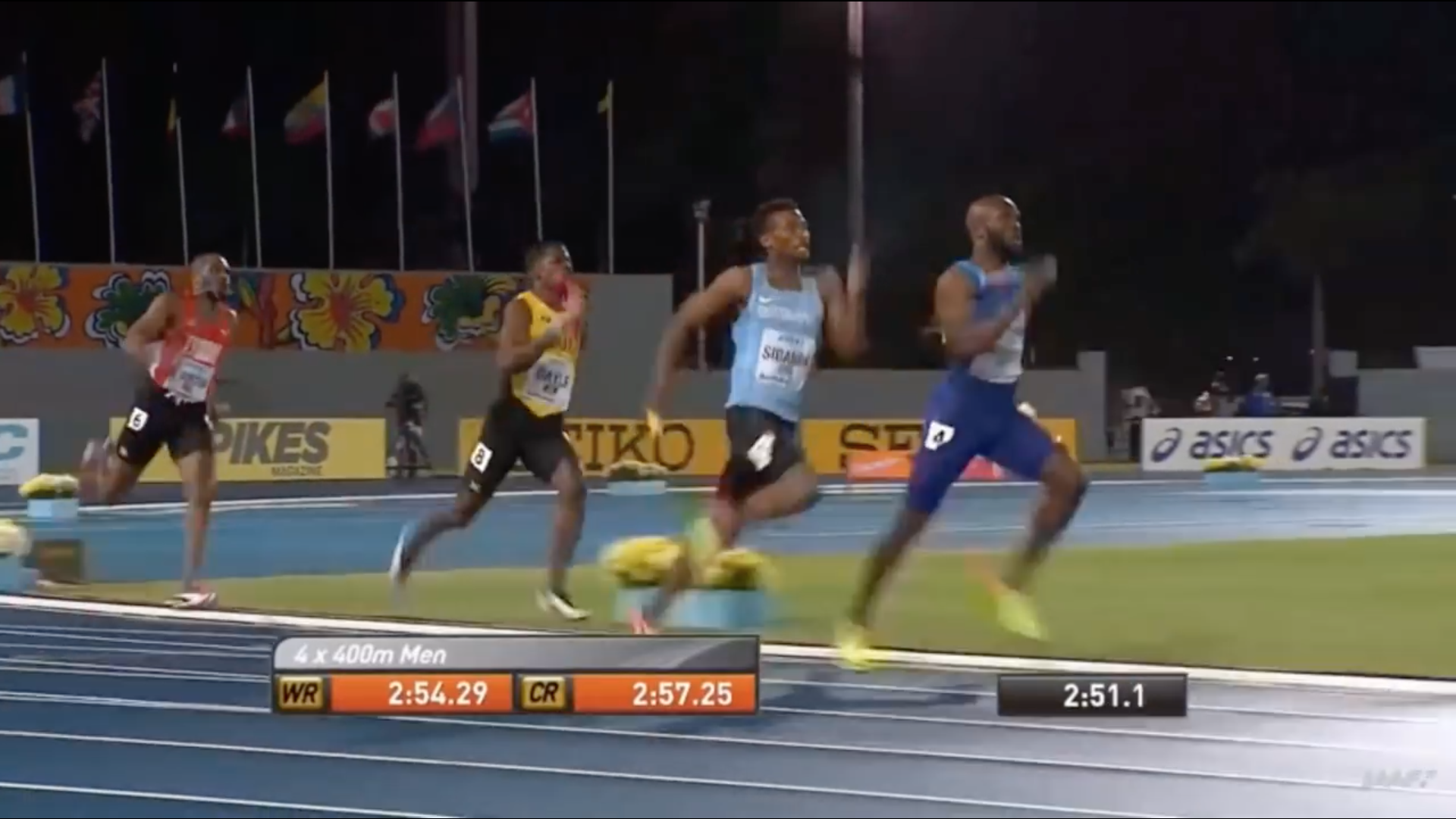 Image source: Athletics2 (YouTube)
Two-time African Champion in the 400m, Makwala kicked off the campaign for Botswana in the final, running alongside USA's Verburg and Matthew Hudson-Smith of Great Britain. However, he struggled to maintain his pace and handed over the baton to Thebe in 5th position.
The reigning African Champion improved to 4th position, while third-leg runner Nkobolo fought hard to better Botswana's lot, steering clear of Jamaica's Martin Manley and Trinidad and Tobago's Jarrin Solomon and passing on the baton to Sibanda in 2nd place.
In what turned out to be a thrilling final leg, Sibanda was the man to watch out for! The 18-year old who was a finalist at last year's Olympic Games, kept Merritt on his toes, almost charging past the Olympic Bronze medalist with less than 100m to go.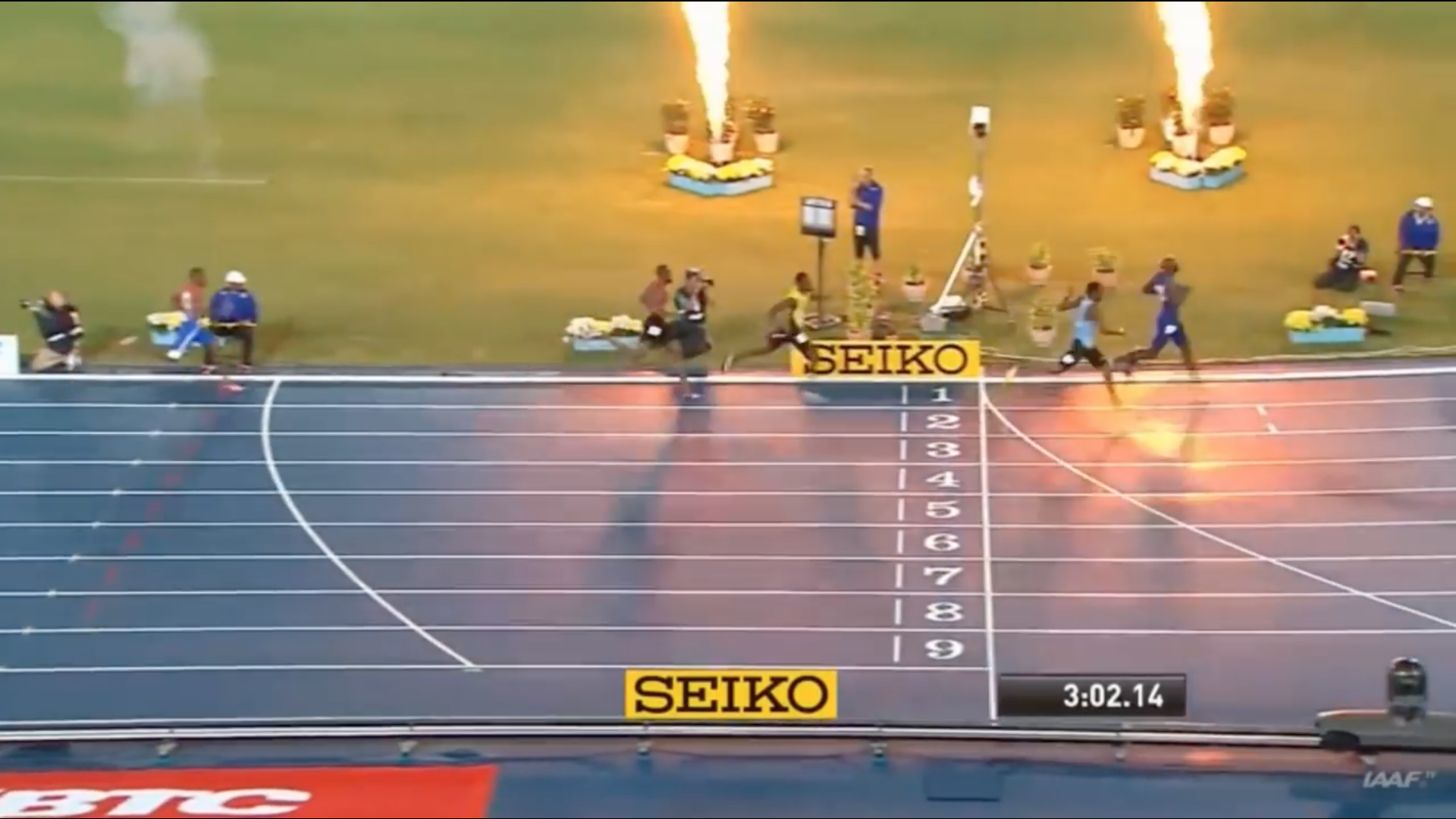 Image source: Athletics2 (YouTube)
However, the American kept his cool and focus, bringing home the baton for the USA in 3:02.13 as Sibanda followed in 3:02.28, a Season's Best. Jamaica won Bronze in a time of 3:02.86, with Trinidad and Tobago, narrowly missing a place on the podium with a time of 3:03.17.
Speaking afterwards, the African Championships Silver medalist said:
"We ran very well today. We could have won, but Isaac Makwala had a bit of trouble with a muscle. I think we can win GOLD at the World Championships."
It is interesting to note that apart from Makwala, the three younger quarter milers on the team formed the nucleus of Botswana's GOLD winning team at the 2016 African Championships, with two of them also winning Silver at the 2016 World U-20 Championships in Poland.
Meanwhile, their female counterparts finished in 6th place in the 4x400m final, racing to a National Record of 3:30.13. The squad comprised former World Champion Amantle Montsh, who only returned to action recently, National Leader Lydia Jele, Galefele Moroko and Christine Botlogetswe.
I watched the day 1 heats of the men's relay and caught a glimpse of sheer brilliance from the Botswana team. I am not one for athletics, but I broke out in goosebumps and my heart swelled with pride at the men's display. We at YourBotswana would like to say congratulations to both the men's and women's teams for putting Botswana on the map. We would also like to wish them the best of luck for all their future endeavours.
---
Did you watch any of the races? Please share your thoughts with YourBotswana and help us put Botswana on the map by sharing this article.
Source: makingofchamps.com