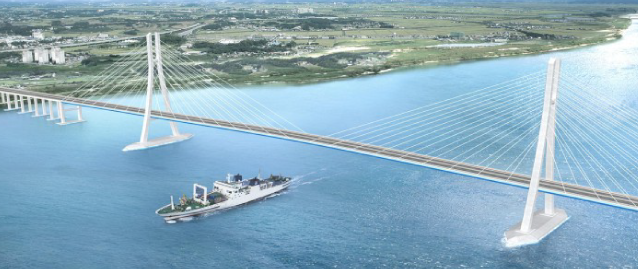 Image source: znbc.co.zm
The Engineering Institution of Zambia – EIZ has encouraged engineers in the country to learn from the way the 259-million U.S dollar Kazungula Bridge project between Zambia and Botswana is being handled.
EIZ President, George Sitali said this when he led a delegation of engineers who were attending the just ended EIZ annual conference in Livingstone on a technical tour of the Kazungula Bridge, which is currently under construction.
Mr Sitali said there are a lot of lessons to be learnt from the Kazungula Bridge project, among them the emphasis on safety at the site to guard against accidents. He said safety is an important component in the implementation of any project.
For her part, Road Development Agency- RDA Director of Communications and Corporate Affairs, Loyce Saili said the agency is happy with the manner in which the contractor, Daewoo Engineering and Construction is carrying out the works.
Ms Saili noted that the project has also offered a valuable learning curve for Zambian graduate engineers who have been attached to the development.
Meanwhile, Kazungula Bridge Team Leader, Kobamelo Kgoboko said construction of the temporary bridge at the site has been completed.
Mr Kgoboko further said the bridge project is expected to employ about 300 more workers as works progress.
Reference: Botswana Government
Image source: The Informer