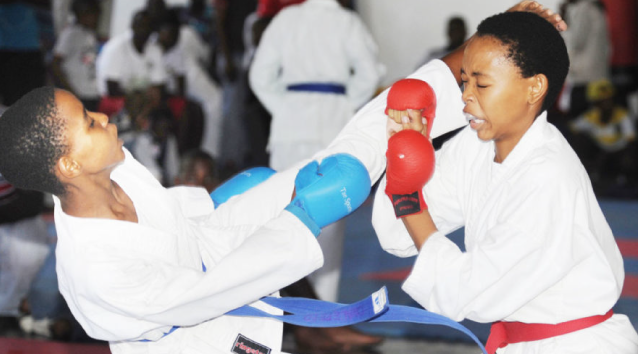 Image Source: Sports Botswana
Botswana Kofukan Federation athletes last week did Botswana proud at the just ended Karateka Kofukan International Championships held in Paris France. Ok, some of you like me, will probably not know much about Karate, but the fact that the Botswana team put us on the map is enough to give us all Batswana and friends of Botswana a very warm, gooey feeling inside.
The 2-day championship competitions brought together competitors from twenty-six countries, among them some of the world's Karate powerhouses such as Bulgaria, France, Canada, Denmark and Ukraine. The Botswana team, led by Chief Instructor, Million Masumbika, brought home a whopping three Gold medals and two Silver medals.
Merilynn Mathe, the only female on the team, won a Gold medal in the Female Individual Kumite category.
Kabelo Molefe and Mpho Bosenakitso each snatched Gold medals in the Male Individual Kumite category, while Oratile Caiphus and Mompati Johnson won a Silver medal apiece in the same category.
They are set to represent Botswana at the African Karate Union Senior Championships to be held in Yaounde, Cameroon next month.
---
Kofukan International is a traditional karate association with member countries around the world and is the official representative of the original Tani-ha Shito-ryu Shukokai organisation of Master Chojiro Tani.
Kofukan International has been in existence for about forty-five years.
YourBotswana would like to take this chance to congratulate the team and wish them well for the upcoming competitions in Yaounde.
---
Meanwhile…
Amantle Montsho among 13 local athletes to represent Botswana at world relays meet billed for the Bahamas.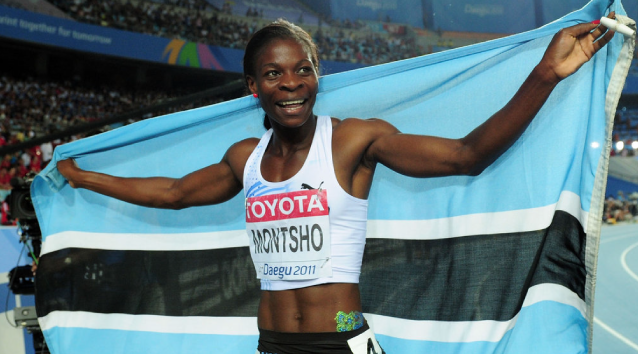 Image source: nytimes.com
Botswana Athletics Association (BAA) has released the names of athletes who will represent the country at the IAAF/BTC World Relays Bahamas 2017, to be held at Thomas A Robinson National Stadium in Nassau on April 22-23.
The 4x400m men's relay is made up of five athletes who competed at the 2016 Rio 2016 Olympics, namely; Baboloki Thebe (who until recently, held the 400m World Lead with a finishing time of 44.89), Karabo Sibanda, Boitumelo Masilo, Isaac Makwala, Onkabetse Nkobolo and Pako Seribe.
The 4x400m women's relay team is made up of Lydia Jele, Amantle Montsho, Christine Botlogetswe, Goitseone Seleka, Galefele Moroko and Loungo Matlhaku. Leeaname Maotoanong, Jele, Seribe and Montsho will represent Botswana in the mixed relay.
BAA Vice President, Kenneth Kikwe said in an interview with BOPA that the team has reported for camp and would depart for the Bahamas on April 17. He was confident that the association had selected a formidable team that would represent the country well and ultimately qualify for the World Championships. Kikwe said the team was selected based on their current performance. He also said it would be the first time that Botswana fielded a mixed relay team.
Their intention, he said, was to motivate and keep in good shape the athletes who did not make the cut for the 4x400m men's relay. Kikwe said while Nijel Amos is a strong athlete, they did not include him on the relay team because he had not competed in any races. He explained that in as much as they would like to have included him, they did not want to set the wrong precedent by selecting athletes based on their history.
Kikwe said they intended to bring to an end US dominance in the 4x400m men's relay.
"If athletes and the technical team are well, we will shock the world. Our team is a very strong one that can upset the USA at any given time," he said.
Commendable fighting words! But again, we at YourBotswana would like to take this opportunity to wish the Botswana team the very best of luck at the world relays in the Bahamas.
---
Did you enjoy this article? Please join us in hoisting up the Botswana flag up by sharing it.
Reference: Radio Botswana News, apanews.net