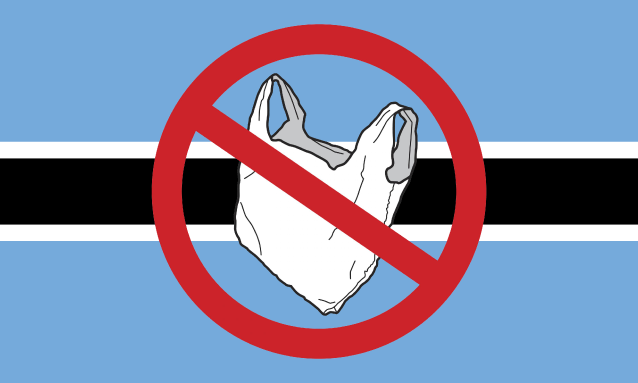 MPs were recently told that since the failure to implement the plastic levy opened the door for retailers to unrestrictedly sell plastic carrier bags, the government now plans to ban use of plastic carrier bags.
The Minister of Environment, Natural Resources, Conservation and Tourism, Tshekedi Khama said the problem with the plastic bag levy was that when it was brought about it was not implementable.
"It was not implementable in the sense that Botswana Unified Revenue Service (BURS) had said it would not be possible to collect the levy at the border. There was also the implication of something to do with Southern African Development Community (SADC) as well," Khama said.
Prior to the government announcing it would be introducing the levy, retailers did not charge for plastic carrier bags. Khama said the other challenge was the government not having the resources to collect the levy from the retailers themselves. Subsequently, retailers saw this as an opportunity to charge the consumer for the plastic carrier bags.
Additionally, he said that the value of shopping from a retailer is further hiked by the price of the carrier bags. Responding to the Member of Parliament for Gaborone North, Haskins Nkaigwa's question about how much money had been made annually through the sale of plastics carrier bags, the minister said there is no income accrued to government from the sale of plastic bags.
"The value of you shopping from a retailer is now further increased by the cost of the plastic carrier bag. That is why we have decided to proceed with the ban on plastic carrier bags less than 24 microns," Khama said.
Apart from retail carrier bags, other plastic products that would fall under the 24 microns size include garbage bags. He further said the National Strategy Office (NSO) has also got involved to find a way of collecting the levy.  He said that despite their efforts, they have not been able to do that with other stakeholders where the authority lies.
Khama said although there is currently no mechanism through which to collect the levy, his Ministry has been engaging the Ministry of Investment, Trade and Industry on the subject, with the latter tasked to meet with plastic bag manufacturers in Botswana to see if they could come up with a solution.
"We had given them about six weeks to two months towards the end of last year, but none of them has come back to us with a solution," the minister said.
---
YourBotswana view
This is certainly a good move on the government's part. The plastic carrier bags strewn all over the place across Gaborone, and no doubt Botswana in general are an eyesore and need addressing urgently. With livestock roaming everywhere, the bags also pose a health and safety threat for them.
I'm not sure why it's so hard to come up with an alternative because as far as I know, some countries have adopted seemingly easy methods, which appear to be working for them. For instance, in the US people largely use paper bags. While they look very awkward and not very sturdy to use for groceries, paper bags are without doubt a lot more environmentally friendly.
Alternatively, there are also 'lifetime bags', also known as 'bags for life,' which are becoming increasingly popular in the UK. People in Botswana have probably not seen them, but they are sold at Pick 'n Pay and Woolworths.
Bag for Life- easy solution to plastic bag problem?
These are reusable bags that are very sturdy and durable, and as such, can last anything up to five years depending on use. The overarching appeal of the bag for life concept for me is that it's the most environmentally friendly option; miles better than plastic or paper. These bags are often made from fabric such as canvas, natural fibres such as Jute, woven synthetic fibers, or thick plastic material that is more durable than regular, disposable plastic bags, allowing multiple use.

Studies estimate use of the bag for life bags over two years can replace up to 1 000 disposable bags.
Bag for life bags are widely sold in UK supermarkets and some clothing retailers, costing as little as 10 pence!
What the government could do
This could be the route the Botswana government goes down; no need to pay a committee or a bunch of experts who will almost certainly tell you how to suck eggs, and charge you an eye-popping sum for the 'consultation' while at it!
I think educating people on the hazards of plastic on the environment, the advantages of swapping over to more environmentally friendly alternatives, promoting the bag for life idea to Batswana, making Batswana aware of where to get one, among others, would work.
You might even find that as the information trickles through to more and more Batswana, some of the more industrious ones might even see the business potential of the concept. If the idea were to catch on; it would not only solve the plastic problem, but it may also lead to some Motswana/Batswana making a living out of it, thus possibly create much – needed job opportunities. And the cherry on top would be people buying the bags and in turn, buying Botswana. I know it sounds simplistic, but I strongly believe it's doable.
What are your views where a possible ban on plastic carrier bags is concerned? Please feel free to share the article and/or comment.
Reference: MmegiOnline