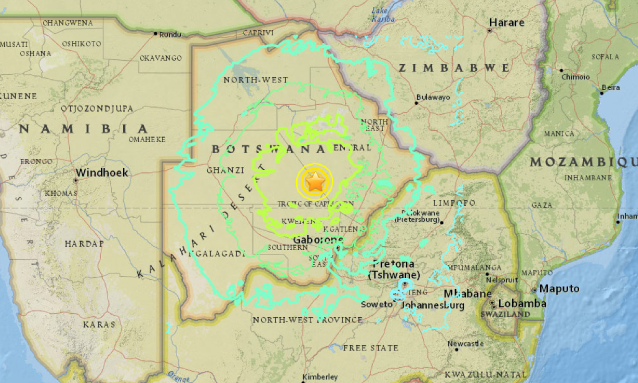 Image source: MyBroadband
You never hear of anything happening in Botswana, but last night the Southern African country made the headlines across the globe with reports of an earthquake hitting the country yesterday evening.
Various media houses as far as Europe and the Americas reported the incident, highlighting the fact that it was the least likely weather phenomenon anyone would expect to happen in Southern Africa, let alone Botswana. People across Botswana felt the earth move and in some cases shake, in what most people believed was residual tremors from an earlier earthquake measuring 4.6 on the Richter scale that hit parts of Johannesburg and North West South Africa. However, as the night wore on, it emerged that Botswana was rocked by the strongest EVER earthquake. That struck me as weird because I have never in my life known Botswana to have been hit by an earthquake.
Sitting at my desk at work, I suddenly felt the floor moving beneath my feet. However, for fear of being called crazy, I didn't utter a word. Suddenly, I saw the windows beginning to rattle and vibrate furiously, at which point I panicked and shouted for everyone to look at the windows. It was one of the most surreal experiences ever, not least because you just don't expect something like that in Botswana!
Everyone in the office then scrambled to get through the door as fast as they could in a bid to flee to safety, even though we didn't quite know what we were escaping from. We were all on our phones to our nearest and dearest to ensure everyone was safe. Looking back now, it was also very comedic because whoever you spoke to, wherever they were, people had poured out onto the streets to marvel at this weird experience.
"We felt the house was vibrating, all the windows and door panels shaking heavily. We went outside and felt the same," a resident of Letlhakane, a village in Botswana near the epicentre, told the Earthquake Report website.
Once the initial excitement and panic settled, people took to various social media platforms to give an account of their personal experiences. The whole thing became even funnier as some of us expressed our doubts as to whether or not what we had experienced amounted to a quake. This largely stemmed from the fact that we as a nation are prone to ever so slightly exaggerating scenarios! However, as time passed, we were reliably informed through various sources that we had indeed been hit by a quake.
Channel NewsAsia quoted US seismologists saying a strong earthquake with a magnitude of 6.5 struck Botswana last night, with tremors felt in several neighbouring countries. According to the website, the US Geological Survey said the epicentre of the quake, which hit at 7.40pm was in a sparsely populated area 238 kilometres northwest of Botswana's capital Gaborone. An AFP correspondent reportedly said It struck at a depth of 29 kilometres, and rumbled throughout the capital for about 30 seconds.
The quake was also felt in several cities in neighbouring South Africa as well as in Swaziland and Zimbabwe, several hundreds of kilometres from the epicentre, witnesses said. In central Johannesburg, two buildings were evacuated as a precaution, according to media reports. Prior to the quake hitting Botswana, a smaller quake with a magnitude of 4.6 was recorded in northwestern South Africa early Monday morning. Strong earthquakes are rare in southern Africa, though in 2006 Mozambique was hit by a 7.5-magnitude quake that killed four people and injured 29.
The Botswana government published a statement on social media late Monday night confirming no deaths had been reported.
Did you feel the earth tremors that shook Botswana last night? Where in Botswana do you live? What was your initial reaction? Please share your experience with YourBotswana.
Reference: channelnewsasia.com
Image source: VolcanoDiscovery