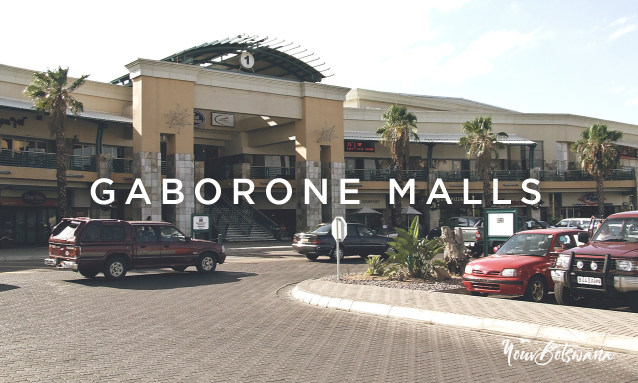 Riverwalk Mall Entrance
I remember a time not so long ago when there were no real shopping malls in Gaborone, let alone the rest of Botswana. In fact, people were so limited in their shopping options that many Batswana would cross into Mafikeng (South Africa) and beyond for a richer shopping experience.
Of course we had the main mall, the African mall, Partial and BBs mall, but in all honesty, they ALL fell way short. These, with the exception of BBS mall, were and still are quaint little shopping complexes, characterised by various independent vendors such as butchers, tailors, seamstresses, cobblers and people selling imported second – hand clothes, among others. While they do have their place, they didn't cater to people's vast shopping needs.
Until just over three years ago, I lived abroad for 13 years and each time I came home to visit, I was surprised at Gaborone's ever-changing landscape. Along with the changing landscape, Batswana's shopping trends also evolved. For the first time in the history of Botswana, Gaborone people are spoilt for choice and are now able to shop locally at any one of the modern shopping complexes. The high street now offers cafes, various restaurants, mid – range and high-end clothing stores and cinemas. I even remember a time when you'd be out in town and not have access to decent public toilets anywhere. Now although some of them are ill-maintained, there's no shortage of public toilets.
In 2002 RiverWalk Shopping Mall, an average – sized complex located in the Village area of Gaborone, got the ball rolling on the construction of malls in Gaborone and indeed across Botswana. From that point on, a few others followed; first with Game city opening the following year in the Kgale area. Even at this stage, there were concerns that Botswana was getting caught up in high-level commercialism, as well as doubts about whether there was enough demand for so many malls, given the size of the population. Nonetheless, there has since been a few more launched; Airport Junction, Rail Park, North Gate and Sebele Centre, while there's at least one more I know of that is under construction in Gaborone. I think it's safe to assume many more will follow.
Also, as many as they are, the problem with these shopping centres is that they offer more or less the same retailers; sadly, nothing ever changes. Therefore, when people see a new one going up, there's no real sense of excitement that we could be getting better, bigger brands as well as a wider range of stores. The same old, tired South African brands keep turning up! Very, very few Batswana can afford the extortionate rental, much less handle stiff competition from giant South African chain stores that dominate the Botswana retail space.
Although I do understand concerns over the growing commercialisation of Botswana, nobody can deny the fact that with these malls, Batswana are finally enjoying the convenience of shopping for almost (almost) anything they need locally. Besides, during a time when people are being retrenched left, right and centre, when the level of unemployment is at an all – time high, there's the consolation that all these malls are creating jobs, albeit very low-paying jobs.
---
Where to Shop in Gaborone
Image source Pinterest
RiverWalk
RiverWalk mall was the first shopping mall in Gaborone and indeed Botswana. The mall sits on the banks of Notwane River, with the main entrance facing east.
It's located in The Village area, on the road that leads to the Tlokweng border. Some may remember that it's the site where the old Game used to be. Riverwalk is probably one of the smallest of the modern shopping centres that have emerged in recent years.
Because of its size, it has a certain warmth and intimacy about it, which could explain its popularity. RiverWalk mall is so popular that long after the stores and other businesses in that area have closed down for the day, it remains alive well into the wee hours.
There's hardly a time that I go past RiverWalk when it's not full. I guess the fact that there are a few restaurants, albeit not as many as say, Airport Junction, adds to its popularity. I believe the other reason people like RiverWalk mall is the fact that it's never as crowded as some of the other ones. For that reason, the mall feels friendlier and safer.
The small shopping centre packs a punch and allows you to do most of your errands under one roof. The three supermarkets available at the mall are Woolworths, Spar and Pick 'n Pay. Choppies hasn't made it there yet; something I'm sure the giant retailer will soon move to correct. In fact, I wouldn't be surprised if there were behind-the-scenes talks as we speak, about the possibility of Choppies attaining a unit there. But I digress…!
Clothing stores at RiverWalk include Cape Union, Woolworths, Truworths and Mr. Price.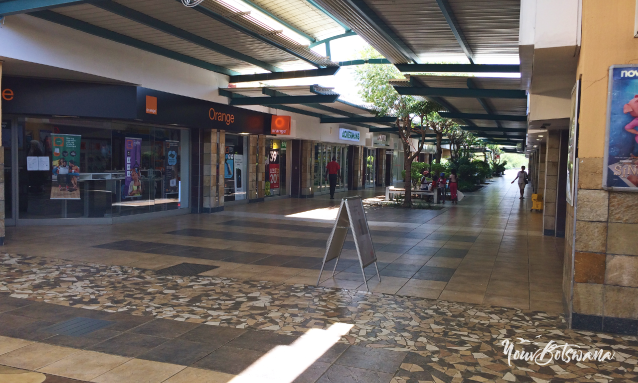 Mascom and Orange mobile phone providers have a presence at River walk, and there's a Samsung store. Restaurants include Rodizio (Brazilian), Johnny Jalapenos (Mexican), Nandos, Simply Asia, Debonairs (pizza) and Mugg and Bean (café). There's also Milky Lane for gorgeous ice-cream and the all-time favourite, Wimpy. All these offer outdoor sitting space. There's also a post office, pharmacy, optometrist and cinema. This is where you can pay your DStv subscription if you want to do it in person.
Although you can pay your water bill at your nearest post office and buy your electricity at most supermarkets, Water Utilities Corporation and Botswana Power Corporation also have branches at RiverWalk. Both are never too full, so that's a bonus.
There are also various ATMs including Stanbic, FNB, Barclays and Bank of Baroda. From time to time, there's an event of some sort taking place at RiverWalk, some of which are worth seeing. If interested, you can check the RiverWalk Facebook page under 'events' or 'posts'.
RiverWalk does not have any curios gift shop, but there are vendors out front as well as within the mall walkways, displaying their afro-centric wares including bags, jewellery and clothes. I will say however, although all very nice, they are not all made in Botswana.
---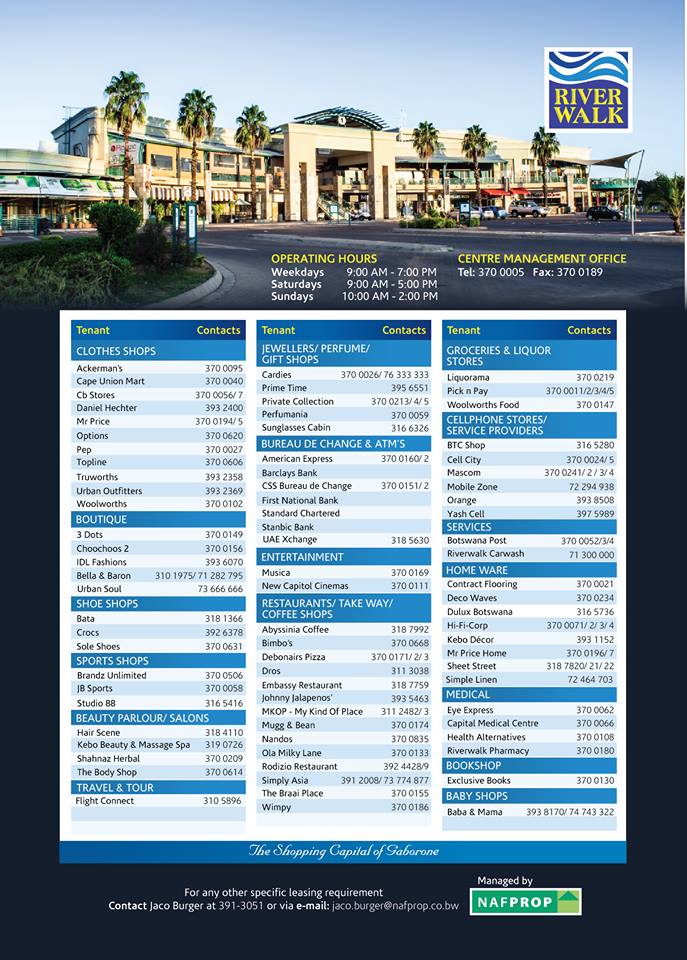 ATMs: Bank of Baroda, Barclays Bank, FNB, Standard Bank, Stanbic Bank
Mall Trading Hours: 9am – 7pm Weekdays / 9am – 5pm Saturdays / 10am – 2pm Sundays
Centre Management Office: Tel: 370 0005
---
There is ample parking space, although because River Walk is popular; there are times when it's so packed, parking space does run out. Parking is free for now. I say for now because I believe once someone cottons on to the fact that they could rake it in charging for parking, they will grab the opportunity to do so. I think it's only a matter of time.
There are many combis coming and going along the main road by RiverWalk. They are either headed towards Tlokweng or going the opposite way, returning to the station. Any combi you catch here besides the Tlokweng Route 6 will take you back to the station. Tlokweng Route 6 goes to Game city mall.
There are a lot more unregistered taxis than registered (blue plates) at RiverWalk. Although taxi drivers often advertise their services, they don't get in your space like the Game city ones sometimes do.
There is no department store at RiverWalk.
---
The African Mall
Built in the 1960's, African mall is one of the oldest malls in Gaborone. It's what I describe as a little rough around the edges, a no-frills sort of mall. It offers old style stores such as a butcher's, pharmacies and electronics. African Mall also has no end of tailors and seamstresses, which is probably its unique selling point. Based on this, perhaps it's not surprising that it also has several stores that sell various textiles and other products such as cotton, zips and buttons; anything required to make clothes from scratch. These shops are very popular because Batswana often have clothes tailor-made for weddings and special occasions.
Although limiting, the African mall has a certain rustic charm about it. The stores at this mall offer branded as well as locally made items at affordable rates. They are not so rigid, so if you're brave enough to haggle, go right ahead.
There are not always taxis at African mall, but occasionally you'll see blue – plate taxis in the parking lot. Otherwise, if you go to the top of the road, towards the main road, you'll be able to catch Tlokweng routes 1-3, all of which go past RiverWalk onto various parts of Tlokweng.
---
Game City
Game City mall is the largest and one of the busiest shopping centres in Gaborone. The mall currently stands at 51000m² in size, with an approximate 8000m² reserved for two further phases of expansion planned. The aim is also to "refresh and re-vamp" Game City to improve the centre's overall offering. Renovations are currently underway.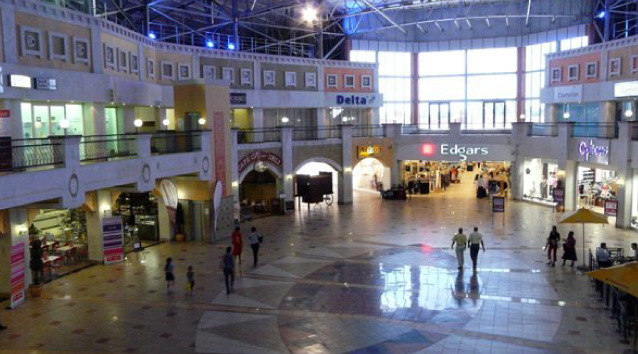 Image source Pinterest
Game City started operating in 2002 and has been contributing to the growth of retail in Botswana ever since. Its simple layout makes it easy to navigate your way through the different sections of the mall. It's on the outskirts of Gaborone, near Kgale Hill. It offers a holistic shopping experience; from fashion outlets, restaurants, coffee shops, supermarkets and a cinema.
Game City has abundant parking space, which is free for customers. Game City hosts annual events, which are open to the public including Christmas carols and the Game City Half Marathon. It is also the designated starting and end point for the popular annual Toyota 1000km Botswana Kalahari Desert Race.
Planned developments include a 3-level parking lot, additional upper – level car parking next to the car wash, and 24hr CCTV cameras. The Naledi Police has a stall within the Centre.
Various restaurants include Nandos, Portugalia, Romans Pizza, The Braai Place, Wimpy, Mugg and Bean. There's also a movie house, Capitol Cinema.
Find it At Game City
Click the image below to view Game City's store directory.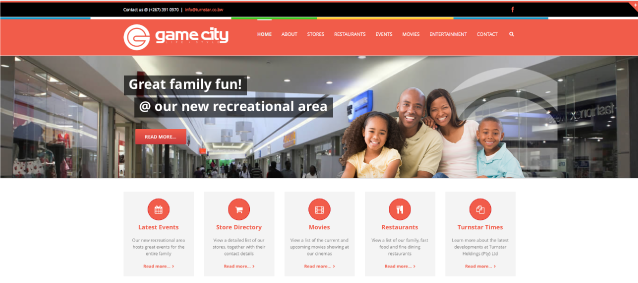 There are a lot of combis, but not many taxis. Combis can be found outside the main body of the shopping centre; there's a small combi rank where all the combis are.
The taxis at Game city tend to be unregistered and the operators intimidating, as they aggressively advertise their services. They are also hideously expensive.
---
Airport Junction
Gaborone's latest offering, the Airport Junction Shopping Centre opened in 2012. As its name suggests, the new mall is located in the north of the city, close to Sir Seretse Khama International airport, and has an impressive 50,000 square metres of fully enclosed retail space.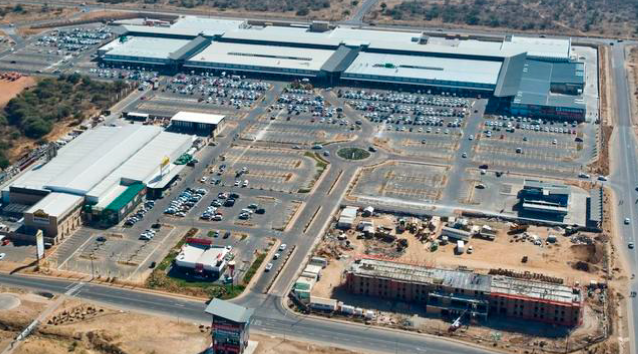 Image source Business Weekly & Review
Estimated to have cost about BWP 385-million, Airport Junction is an interesting mix of high fashion outlets, classy international brands, supermarkets and department stores. Driving to and from Airport Junction can be tricky owing to traffic congestion at certain times of the day.
The open food court covers 2,000 square metres and offers restaurants including Debonairs pizza, KFC, Nandos, Cappello, Cappuccinos and Ocean Basket, among others. There's also a state of the art Virgin Active gym at the mall.
There are no registered taxis, but if you ask the security personnel, they'll be happy to find one of the unregistered ones for you, providing you don't mind going with one. They can be very expensive, although some are open to negotiation.
There are some combis too.
---
Rail Park
In October 2011, Gaborone witnessed the opening of yet another landmark situated at the heart and soul of the city. The 32,000 square meter brainchild of JTTM Properties boasts a modern architectural look, which complements the budding CBD attractions.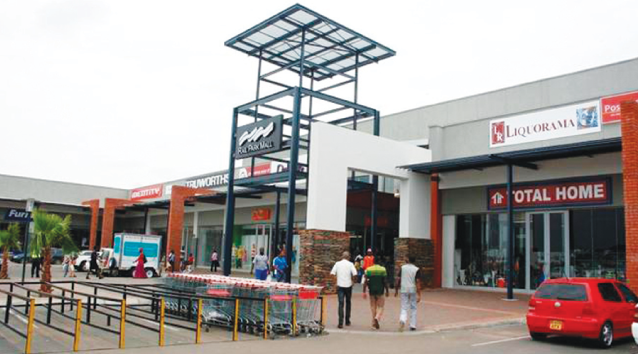 Image source Botswana Railways
Rail Park Mall has found its niche in the convenience it provides for its customers; access to public transport, access to shopping and access to entertainment. The bridge that directly links the station to the mall adds to this convenience factor. Customers also have free access to public toilets and ample parking.
Customers are spoilt for choice with a variety of 105 shops catering for all income groups. The mall has a Food Court serving an assortment of cuisines such as Chinese, Portuguese and fast foods. These restaurants are Sunny Cook, Barcelos, Debonairs, KFC, Pie Time, Chicken Licken, Milky Lane and Wimpy, among others.
The Food Court area also serves as an entertainment arena where customers are treated to occasional mall promotions and various events. Rail Park has become the most visited mall in the city with a mean of over 300 000 feet visiting the mall per week!
---
Mall Trading Hours: 9am – 7pm (Monday – Thursday) / 9am – 8pm (Friday – Saturday) / 9am – 5pm (Sunday & Public Holidays)
---
As nice as Rail Park mall is, it gets very overcrowded, especially when the schools are closed. There is a problem with loitering, with a lot of students using it as a hangout venue. It doesn't help that Rail Park is bang slap between the station and the bus rank, the very hub of Gaborone city public transport. This is the starting and termination point of various buses, the train, taxis and combis. It's the only mall in Gaborone that I've ever known to have a problem with pickpockets and occasional incidents of crime. Taking that into consideration and the fact that it's quite big, Rail Park can be a little daunting.
With it being the central point for all public transport, there's no shortage of taxis, combis and buses, both at the station and at the rank. Taxis and combis are available behind the mall, as well as at the station, which you can reach via the flyover from the bus rank. Both the taxi rank and bus rank are a little intimidating if you're not familiar with them. The bus rank provides a very rough and ready backdrop to Rail Park mall, the two striking an interesting picture of sharp contrasts.
In my honest opinion, both the bus and taxi ranks could desperately do with a complete 'tear-down and overhaul' exercise, so as to bring them both to the standard of the modern Rail Park mall. I think that would also soften the hard lines that have been established over the years, giving the bus rank an air of danger. I believe sprucing it up and giving it a fresh, more organised look, would make everyone who passes through feel a lot safer.
---
Gaborone Main mall
Gaborone main mall is the official centre of the city. Built in 1963 in preparation for Botswana's independence in 1966, it has generally maintained its look to date. –And it shows because the main section of the mall looks a little tired and in my opinion could desperately use a face-lift. But for nostalgic reasons, many people are very precious about the centre and would rather not have it touched at all!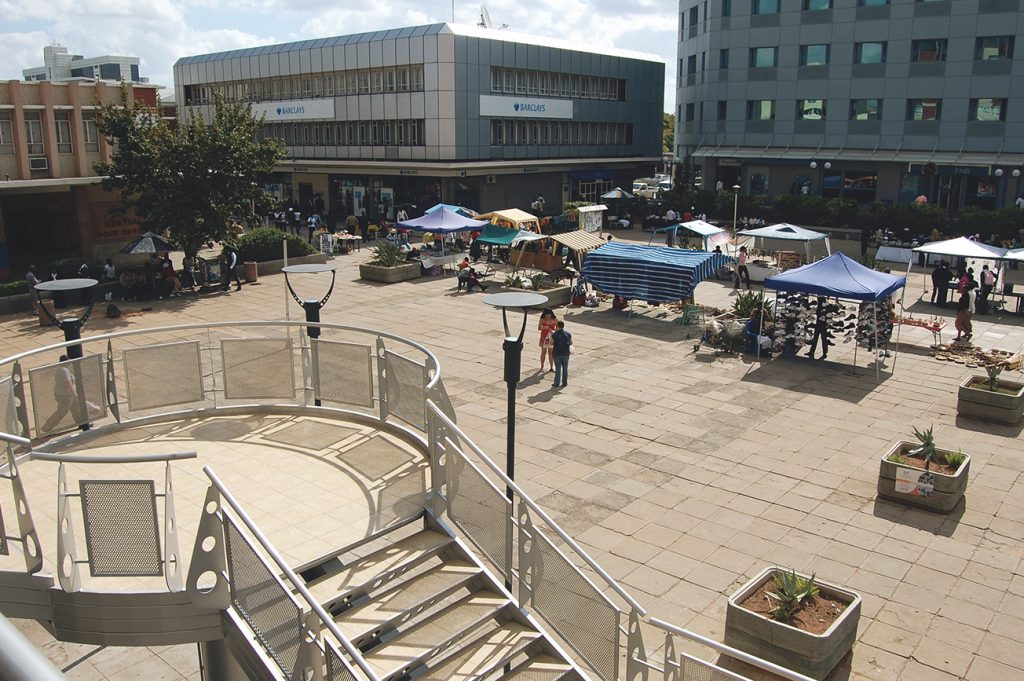 The Main mall has shops, banks and business offices. The majority of offices are right behind the mall; an additional section of the mall that came years after it was constructed. The mall is characterised by an "open walkway" that runs up and down the length of Main mall. This has become a place where vendors display their African wares including handmade sandals, bags and hand carved wooden curios, much like an open market. It's worth having a look at some of the stuff on display, in case you find some souvenirs or gifts you like. The area is also used for shows and exhibitions.
Not very far from the Main mall is the Government Enclave; with the Parliament to the west, and the Civic Centre and city council to the east. The centre boasts some of the town's oldest shops and office buildings, as well as one of Botswana's first hotels, The President Hotel. The President Hotel offers impeccable customer service and delicious food.
There are sadly no public toilets at the Main mall. If you're brave, you can be cheeky and nip into the toilets at KFC. There is a taxi rank and as such, no end of taxis. Combis go via the taxi rank on their way to the station.
---
Fairgrounds
Fairgrounds shopping mall lies on the edge of the Gaborone Dam. Popularly known as 'mmolo wa ga Dada' (Dada's mall), it is nowhere near as grand as some of the newer malls but has its uses. It offers furniture shops, a supermarket and fast food. It may be worth noting that there's a Woolworths there.
The Tlokweng route 6 and Broadhurst route 5 combis go past the centre. However, where the Broadhurst combis are more prolific and often go past empty, it can be very hard to get on the Tlokweng route 6, as it's usually full. If you're heading towards RiverWalk, it might be an idea to get on the Broadhurst combi and get off at IDM, walk back on yourself towards the main road and wait for the Tlokweng combis.
There are no registered taxis stationed at Fairgrounds mall, but if you ask the petrol station attendants, they are always happy to locate one of the trusted unregistered taxis for you.
---
Molapo Crossing Mall
Molapo Crossing shopping mall is located at the intersection of one the busiest roads in Gaborone on the way to Mogoditshane. The mall, located next to the Grand Palm Hotel has a big Pick n Pay, restaurants and a pub. There's also a curios gift shop and a very good pharmacy. It may be small, but it's actually a very decent mall.
Towards the back of the mall, there's a venue where concerts, entertainment and exhibitions are regularly held called Stanbic Bank Piazza. There is a little kiddies play area and a gym too. There's an endless trail of combis and taxis along the main road, but none stationed at the mall.
As the construction of modern shopping complexes continues to explode all over Gaborone and Botswana in general, this is by no means the complete list. There are other smaller malls sprouting all over. This time next year, there'll no doubt be more to tell you all about.
---
What are your thoughts on the alarming rate at which shopping centres are mushrooming in Botswana? Whether you are for or against it, please feel free to share your thoughts with YourBotswana.