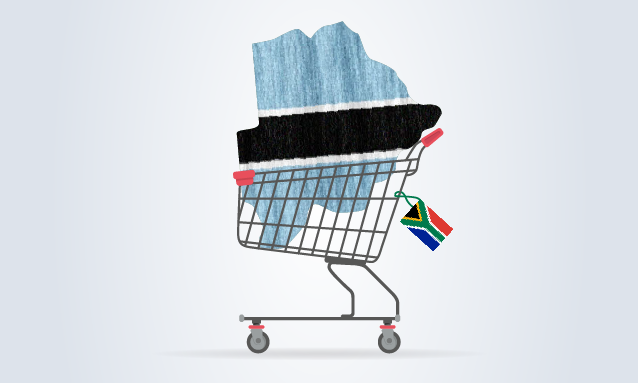 I have always said South African retailers take Batswana customers for granted because they clearly monopolise the retail space in Botswana. Pair that with the fact that Batswana, on the whole, have never been well versed in their consumer rights, and this I believe, has led to South African retailers resting on their laurels and not offering their Botswana customers the best service they can. From where I'm standing, the situation seems to be perpetuated by the fact that there appears to be no recourse whatsoever for their conduct in Botswana, so I guess they can't really be wholly blamed for carrying on the way they are.
This week, I was happy to see that I'm not alone in my observation of the state of the retail sector in Botswana, as The Gazette newspaper ran an article stating that Botswana consumers have been losing 45% of the money they could have saved to South African retailers who peg their prices at a value in Pula identical to the Rand value of the same goods in SA. This, the paper observed, was the case even though the average annual exchange rate between BWP and SAR, is unequal and the widest in SACU.
---
This is clear to see in many stores, which brazenly slap on Prices in Rand instead of Pula. When you go to pay, you are then charged a like for like price, even though the Pula is the stronger currency. That does not strike me as a fair deal at all.
---
This according to The Gazette, is something that hasn't slipped the eagle eye of Botswana-based Consumer Watchdog, an organisation which advocates for the interests of Botswana consumers. Consumer Watchdog is said to have raised concern that many SA retailers throughout this country price their stock in Pula and Rand at the same rate, despite the favourable Pula/Rand exchange rate, which supports cuts in prices of South African imports in Botswana.
"Some stores have told us that they need to charge slightly higher prices in Botswana than in South Africa because of higher transport costs, taxes and staff costs but none of this makes sense. If they can charge a better price in Namibia, why can't they do the same in Botswana? Also, if they were charging an economic rate for their products isn't it a remarkable coincidence that the numbers are exactly the same?" said Consumer Watchdog Director Richard Harriman.
Shockingly, Harriman indicated that the stores ignore calls to stop the unfair trade practice, which has resulted in consumers being denied currency exchange rate benefits in pricing.
"In late 2015 the then Ministry of Trade and Industry ruled that it was an unfair trade practice if the Pula/Rand exchange rate differential is not passed onto the consumer. A few months later that message was repeated by the president himself, so there's no excuse. We can accept higher prices if there's a good reason but if it's just laziness and complacency then consumers have a right to be angry," he said.
The consumer rights activist says there are two things that consumers can do to make stores behave better –
"Firstly, we can continue complaining to the authorities every time we see this ruling being ignored. Secondly, we can vote with our feet. If a store is abusing us, then we shouldn't shop there. The authorities are powerful but not nearly as powerful as mobilised consumers."
Asked about the amount of money consumers could be losing as a result of the unfair pricing practice, Harriman said,
"I'm really not in a position to guess what the amount might be. However, I'm sure it's fair to say that it's a lot of money."
It has emerged that in the three years between 2011 and 2015 the exchange rate between Botswana and South Africa has gone from 1Pula = 1.04 Rand to 1.45 Rand. Between 2015 and 2016, the average exchange rate remained unchanged at 1 Pula = 1.45 Rand and is expected to decline to 1 Pula = 1.40 Rand this year.
Gazette Business understands that with the exchange rate of 1 Pula = 1.45 Rand local retailers importing stock from South Africa have their imported stock prices reduced and the importers have to cut their stock selling prices by 45 percent. This means for every product priced in Pula and SA Rand at the same rate, Botswana consumers have been losing 45 percent of the money they could have saved. It appears that Botswana consumers are also losing more compared to consumers in other SACU member states because the average annual exchange rate between Botswana Pula and South African Rand is the widest. The currency for other SACU member states who also import most of their stock from South Africa is at par with SA Rand.
Mr. Price Group Corporate Communications Manager, Lee-Ann Heyburgh denied that Mr Price's Botswana stores price their stock all at the same rate and said their pricing considers many factors.
"Our pricing looks at market conditions and the varying costs of doing business such as logistics and occupancy cost in different countries and in separate currencies. We do our best to review our pricing on a regular basis to account for changes in these underlying conditions," she said.
Permanent Secretary at the Ministry of Investment, Trade & Industry, Ms Peggy Serame could not state penalties for retailers with unfair trading practices but indicated that in an endeavour to curb the unfair pricing practice, the government has issued press statements advising retailers to consider currency exchange rate when pricing their stock, adding that the government will continue to inspect stores to ensure fair pricing practices.
---
Some observations I find worrying…
Goods being sold in the last day or two of their shelf life. Quite often I've bought food items that are right at the end of their lifespan because quite frankly, you wouldn't expect a retailer to sell at full price stock that has only a day or 2 before it goes bad. You also expect them to rotate stock so that it's first in first out with everything that they display for sale.
Then again, there are some stores that seem to have no variation in expiry dates. Most products expire on exactly the same date, usually within the next couple of days, begging the question; are South Africa's dregs being palmed off onto unsuspecting Batswana? The same Batswana customers who don't really know their rights and never really take the time to complain when they feel retailers are stomping on their consumer rights.
What these stores need to realise is that people are becoming more and more enlightened, as the world becomes a much smaller place. The cushy position these retailers have enjoyed over the years because of people being in the dark about their consumer rights are coming to an end. The fair thing to do here would be to have a corner to display this type of stock at reduced prices, giving the customer the choice of buying the reduced items or going with fresher products. Well, providing they available.
Display models sold at full RRP. I once walked into a homeware store looking for a couch. I saw one I really liked on display, which people were taking turns to test; naturally sitting on it and touching it. Sadly, when I enquired about it, the display model was the last one in stock and the staff were almost certain there wouldn't any more coming in in the future. Rubbing my hands with glee, I half-joked; lovely, so I guess I can get this one at a discount, because it's standard practice elsewhere in the world, as I'm sure it's the case in South Africa.
However, the assistant who was helping me gave me a resounding no, because it wasn't company policy. I knew it was a lost cause because the decision wasn't hers to make, but I still explained to her why I felt it was grossly unfair to charge customers full price for display models. I think because Batswana have been conditioned to believe some of these unjust practices are the norm, the whole thing seemed to go over her head!
Damaged/soiled products sold at full price. When you go into a clothing store, see something you like but find it's either faulty or soiled. Ordinarily, you'd expect to be able to haggle and get the price down, but apparently not in Botswana. It would appear South African retailers just aren't bothered whether or not the items get bought. Or maybe they don't see why they should reduce the price because eventually, someone will buy it without questioning it.
This is wrong and has to change because the customer isn't getting value for money. The customer shouldn't even have to ask, it should be the norm!
Inconsistencies restocking items
This is one of my biggest bugbears! I think it's very shoddy for retailers to slack off on bringing in stock that we become accustomed to. However, in Botswana, this is fairly common practice. Items that you become accustomed to buying keep coming and going with no explanation offered. The usual practice is to put a note along the lines of sorry, out of stock. But it doesn't happen in Botswana. Retailers will instead plug the hole with an altogether different item, leading to more confusion and frustration.
---
Have you got any of your own you'd like to share with YourBotswana? These are just some of my observations that I can think of at the moment. Please feel free to leave a comment.
Reference: The Botswana Gazette