It was first officially announced that Botswana was to be first partner country ever from Southern Africa to work collaboratively with the World's Leading Travel Trade Show® at ITB Berlin on 9 March 2016.
On 9 March 2016, at a press event at ITB Berlin, the world's leading travel trade show and Botswana signed the agreement, with Botswana's Tourism Minister H.E. Tshekedi Khama II and Dr. Christian Göke, CEO of Messe Berlin GmbH signing on the dotted line for ITB and Botswana respectively.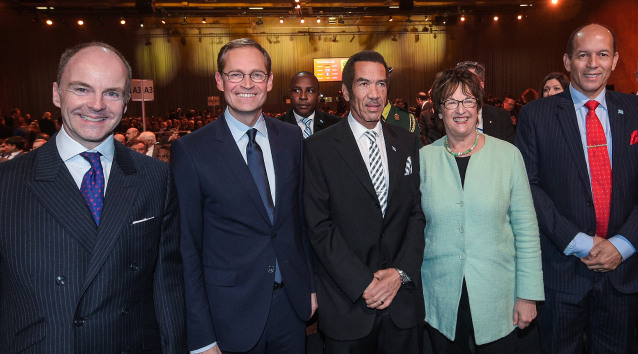 ITB Berlin 2017 – Opening ceremony – Dr. Christian Göke, CEO, Messe Berlin GmbH; Michael Müller, Mayor of Berlin; H.E. Lieutenant General Dr. Seretse Khama Ian Khama, President of Botswana; Brigitte Zypries, Federal Minister for Economic Affairs and Energy; H.E. Tshekedi Khama II, Minister of Tourism, Botswana (l.t.r.)
Minister Tshekedi Khama (pictured above, far right) said at the time;
"The Botswana Tourism Organisation has taken the opportunity to become the partner country of ITB Berlin 2017 in order to share Botswana's nature conservation achievements with the rest of the world and to raise general awareness of this country. Botswana's role as the partner country of the world's largest travel trade show will ensure the long-term attention of the global tourism industry.

It will not only place the spotlight on Botswana's tourism successes but will also focus attention worldwide on our potential for economic development. In the past Botswana has achieved great success that has remained largely unnoticed around the world. Botswana will also benefit from this year's fiftieth anniversary of ITB Berlin. Numerous activities and events will give us the opportunity to market and promote our country as a tourism destination and to improve our returns on investment."
For his part, David Ruetz, head of ITB Berlin said;
"Botswana is Africa's best-kept secret. Two contrasting natural features characterise this country: the Kalahari Desert and the Okavango Basin with its many animal species, large forests, and innumerable streams that empty into small lakes. Particularly during the rainy season, visitors on trips and safaris can marvel at the unique fauna and flora.

The diverse cultural heritage of the country, the warm hospitality shown by its people as well as sustainable tourism make Botswana an unrivalled holiday destination in Southern Africa. The fact that almost 40 percent of the country's surface area has been declared a national park, wildlife or nature reserve is testimony to the exemplary efforts undertaken to actively preserve nature."
The Republic of Botswana has been exhibiting at ITB Berlin every year since 1984, with the aim of making people around the world aware of its special attractions. Next to the diamond industry, the most important branch of the economy, the tourism sector currently already accounts for five per cent of GDP.
How Botswana dazzled at ITB 2017 show
Botswana organised the opening event on 7 March 2017 and was expected to entertain visitors to ITB Berlin for the whole duration of the exhibition with a wide-ranging programme of events. H. E. Lieutenant General Dr. Seretse Khama Ian Khama, President of the Republic of Botswana, held the opening address on the first day of the travel show.
---
Botswana pulled out a series of tricks with which to dazzle the audience that entailed showcasing tourism attractions and featuring dance, music and theatre performances
---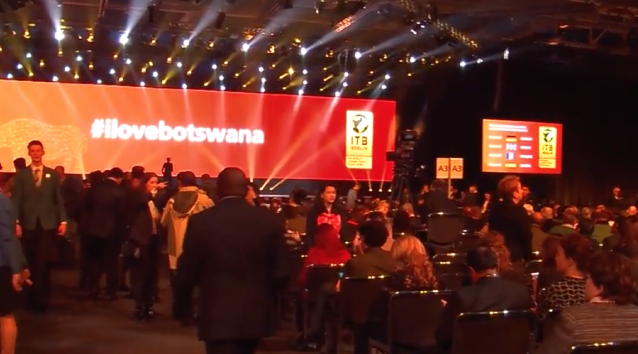 #ilovebotswana was the slogan of this year's opening event at ITB Berlin. On 7 March 2017 starting at 6pm Botswana hosted a colourful and entertaining stage show at the CityCube Berlin.
A selective tour of Botswana's attractions, including a wealth of wildlife and culture, awaited around 3,000 guests, including many celebrities representing politics and tourism.
The #ilovebotswana ensemble directed by Andrew Kola of the Mophato Dance Theatre comprising 20 male artists and 11 female artists from various performance groups in Botswana had the audience eating out of the palms of their hands.
With their high-energy dance, rich, traditional Setswana music and theatre performances, the group gave an impressive interpretation of the wide range of tourist attractions in different parts of Botswana.
ITB Berlin 2017 concludes on Sunday 8 to 12 March. ITB Berlin is the World's Leading Travel Trade Show. In 2016 a total of 10,000 companies and organisations from 187 countries exhibited their products and services to around 180,000 visitors, who included 120,000 trade visitors.
Reference: itb-berlin.de
Imagery courtesy of ITB Berlin