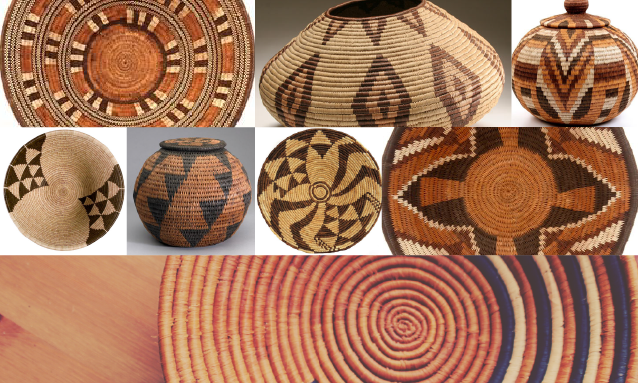 Botswana's arts and crafts mirror its rich cultural diversity, brought about by its various ethnic groups. Gorgeous crafts of different types with a range of stunning designs that proudly tap into various cultures of Botswana are produced across the country by ordinary Batswana using skills influenced by their respective customs and traditions. It is these hand-made crafts and curios that keep countless gift shops in Botswana's safari camps, city centre open spaces and curios stores across Botswana fully stocked and tourists and locals happy in equal measure.
Among the curios worth looking up in Botswana are the beautiful hand-woven baskets. Basket weaving skills are generally concentrated in the Northern part of Botswana, notably in and around Kasane and Maun. Batswana women living in those areas are renowned for their unrivaled skills at crafting baskets that have become infamous for their undeniable beauty.
Where to find the baskets
Botswana baskets are considered some of the finest in Africa. Their high quality, outstanding workmanship and originality have gained them international recognition and are now exported to many parts the world. You can find the baskets in curios gift shops found mainly in Botswana's safari destination such as Kasane and Maun. They are also usually displayed at annual basket exhibitions at the national museums and trade fairs. The industrious basket weavers can usually be seen selling their wares alongside other craftsmen in malls in major cities such as Gaborone, Francistown, Maun and Kasane and at safari camps in the Okavango and Chobe regions
How they are made
Because of the slow and intricate work basket weaving requires, a large basket can take up to two weeks to complete.
The baskets are made from the leaf fibre of the young real fan palm (Hyphaene petersiana) or mokolwane in Setswana, which gets stripped into strings before weaving. The majority of the baskets bear a pattern of some sort woven into them.
A needle of sorts is the main instrument used to carry out the intricate weaving. The needle is basically a sharpened piece of thick wire set in a wooden handle used to pierce the tight coil and insert and then wrap the palm in a fashion that results in stunning patterns unique to Botswana.
Those who are familiar with Botswana baskets will know they come in various warm earth tones. To get the various colours, the material harnessed from the palm trees is pounded and then soaked in a boiling solution of natural dyes taken from the bark and roots of various plants. It is ingenious how the whole thing works!
---
Reds are extracted from the bird plum (Berchemia discolor)
Browns from the magic guarri (Euclea divinorum)
Purples from the indigo dye plant (Indigofera tinctoria and arrecta)
Yellows from the red star apple (Diospyros lyciodes)
---
Botswana basket weavers use a method called coiling to create their modern baskets. The process of making a coil basket can take up to six weeks to complete. Basket makers use a thick bundle of palm fiber, grass or vine to begin the inner coil. The next step is to pierce a small hole into the coil and begin wrapping strips of palm around the core of the basket. This process is repeated until the basket reaches the desired size. They then design various designs by weaving strips of dyed palm into the basket pattern
How Batswana have used baskets over the years
As an integral part of the Botswana culture, baskets have been used for various purposes.  The shape of the basket varied according to its function.
Closed baskets with lids are used for storing food such as grain and seed.
Large, open baskets – women use these baskets in the shape of bowls for the transportation of goods
Smaller, plate-shaped baskets are used for winnowing grain after it has been processed.
Tray-type and bowl baskets – carried by women on their heads, are designed for a more general use.
Basket weaving, a livelihood for women in Botswana
Mainly sold mostly through co-operatives in Botswana, baskets have become an important source of supplementary income for many rural families. Those lucky to visit the rural areas where the baskets are made such as Nxamaseri, Sepopa, Etsha 13 and Etsha 6 have the opportunity to purchase the baskets directly from the basket weavers. These are the very best baskets in Botswana.
---
Botswana baskets are made mainly by the Bayei and Hambukushu women in the North Western regions of the Okavango Delta. Baskets have been an essential part of village life for them.
---
Basket making by Botswana women has come a long way and continues to thrive.  During the last three decades Botswana basket weaving has become increasingly well known in the international craft market.
Etsha Weavers Group, a Botswana craft group made up of 24 skilled basket weavers, has played a pivotal role in bringing attention to Botswana basketry as a unique art form.
The traditional designs consisted of a few patterns that portrayed the natural world and were produced using few colours. Although these designs are still used in the rural areas, most baskets are now produced for the commercial market. They come in various new shapes, sizes, colours and modern patterns that have now been introduced.
---
Did you enjoy this article? Please share it and /or share your thoughts with YourBotswana.