I think it's safe to say with Maun being the 'gateway to the Okavango Delta', it should be one of the towns on visitors' radar if only for that one reason. However, Maun has so much to offer, anybody who decides to visit the town will need a considerable amount of time to cram in as much as possible before they return home.
Luckily for you all, YourBotswana took time out over the Christmas break to check out some of the most exciting things you don't want to miss out on when you visit Maun.
---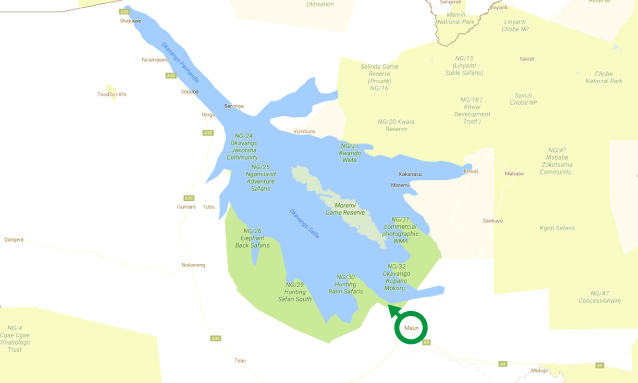 1. Okavango Delta
The Okavango Delta is affected by seasonal flooding with floodwater from Angola reaching the Delta between March and June, peaking in July. This peak coincides with Botswana's dry season resulting in great migrations of plains game from the dry hinterland. Very much at the centre of Botswana's safari industry, the Okavango Delta features some of Africa's premier camps and lodges.
The Okavango Delta is the 1000th site to be inscribed on UNESCO's World Heritage List in 2014.
Generally flat, with a height variation of less than two meters across its area, dry land in the Okavango Delta is predominantly comprised of numerous small islands, formed when vegetation takes root on termite mounds. However larger islands exist with Chief's Island, the largest, having been formed on a tectonic fault line.
The 1000th site to be inscribed on UNESCO's World Heritage List in 2014, the Okavango Delta is an important wildlife area protected by both the Moremi Game Reserve, on its eastern edge, and the numerous wildlife concessions within Ngamiland.
An oasis in an otherwise dry environment, the Okavango Delta is known for its superb wildlife, with large populations of mammals and excellent birding, particularly in the breeding season.
---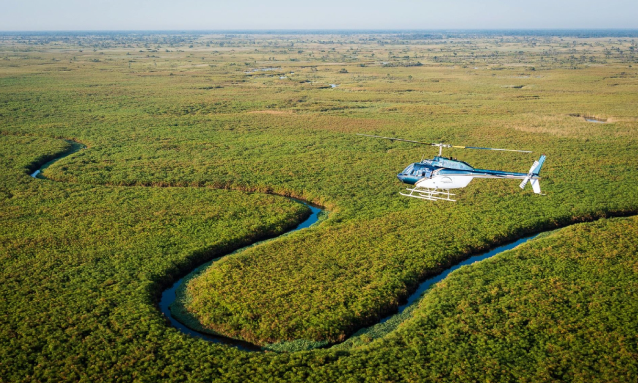 2. Helicopter Scenic Tours
A scenic flight is the most efficient in terms of time and enables you to experience an aerial view, which puts into perspective the vastness of these wilderness areas.

The best times for scenic flights are in the morning and late afternoon when weather conditions are calmer.
For your comfort and safety, please listen carefully to your pilot's safety instructions. Your pilot will assist you in looking out for game along the way. Seeing game is always a "Lucky Dip" so you'll have to be alert, keep an ear out and have your eyes peeled to make the utmost out of this experience.
Pointers to bear in mind:
There are countless tour operators that offer this service, the most accessible of which are dotted along the Maun International airport. All these reputable safari operators are literally on the airport's doorstep, saving you the hassle of doing all the legwork, literally and figuratively.
The excursion can last anything between 45 minutes to an hour; it varies from operator to operator. Keep an eye out for Hippos in the waterways and Elephant and Buffalo in the shade of the trees. Observe how the water channels meander their way through the Delta in ever changing paths as this dynamic water system evolves. The vastness of this pristine wilderness is breathtaking.
Flying 500 feet above the Okavango Delta gives you a great view of the largest inland delta in the world. You leave from Maun airport and will need to show your passports or Omang (Botswana ID Card) to show to the airport security.
Shop around as prices do vary. When we were in Maun, the best price we could find was P5 000 for 3 people for a 45-minute session. Because it was really a spur of the moment thing, we weren't able to shop around. But we've since discovered there are many other operators who offer more affordable prices.
---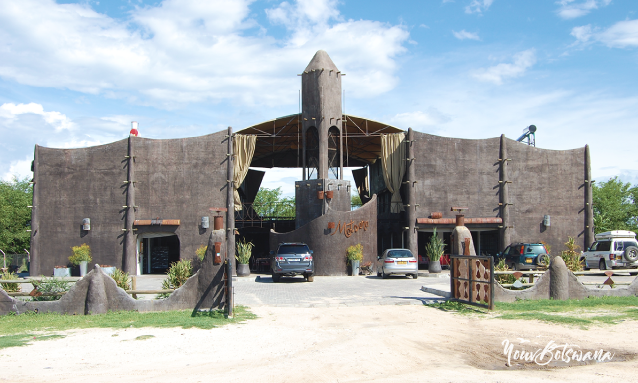 3. Motsana (for cultural days)
The two-storey Moroccan-style building on the road to Shorobe is one of Botswana's more innovative cultural spaces. Motsana has an arts cafe, a few curios gift shops which also sell photographic prints and textiles, a gym, a travel agent, health food store and hair salon.
During the summer the centre also runs movie nights every Thursday evening at 7 pm as well as dance classes. Movie nights offer a novel experience, as you get to watch movies out in the open, under star–studded African skies, from the comfort of plush chairs.
There's a live theatre, which hosts all manner of community events. Motsana hosts a monthly Sunday Farmers Market, which usually takes place on the last Sunday of each month. The Farmers Market offers local fresh produce and crafts made in Maun. However, unlike other lodges in the vicinity, Motsana doesn't offer much in the way of scenery.
---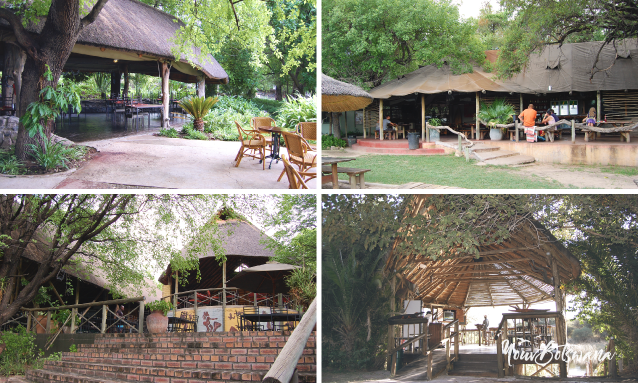 4. Visit lodges in and around Maun
I'd be very surprised and impressed to know of a place in Botswana, which rivals Maun in terms of the number of lodges it has. There are countless lodges on the delta. But before we even get to those, there are countless others scattered in and around Maun, each with its own unique 'personality' and begging to be explored.
Luckily, these are accessible by car, unless the safari lodges in the delta that can only be accessed by charter plane. It's worth visiting these lodges for the scenery, the ambience and the food. The food is usually made from scratch and is simply to-die-for. The lodges offer you the safari experience right within Maun, at a snip of the price you'd pay for a 'true safari experience'. What's more, a lot of them offer 1-day safari excursions like walks, mokoro rides (dug-out canoes), scenic flights and game drives.
Below are some of the lodges that YourBotswana has visited and enjoyed.
Island Safari Lodge
Okavango River Lodge
Croc Camp
Thamalakane River Lodge
Audi Camp
Sedie Motel
---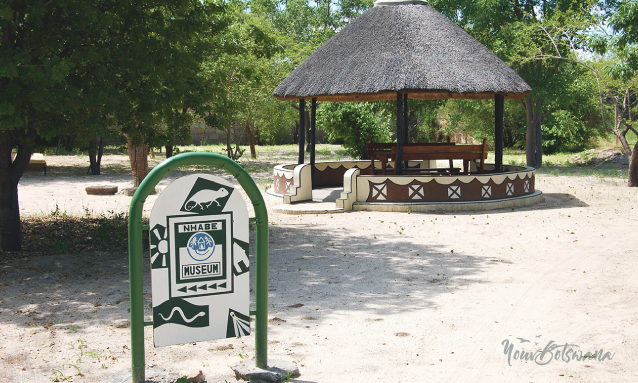 5. Nhabe Museum
Founded in 1995, Nhabe Museum's focus is on promoting and preserving culture, crafts and arts of the North West district. Sadly, when YourBotswana went to see it over the Christmas break, the museum was closed for the festive season. The Okavango Artists Association and the Poetkavango Group are currently resident at the museum.
The museum also works closely with all of the Ngamiland Basket Weavers and Craft fabricators. At various times of the year, Nhabe Museum displays a collection of Cultural Artefacts that may be of interest to keen lovers of history.
For further information:
Nhabe Museum can be reached on – Tel: 6861346
E-mail – museum@botsnet.bw
---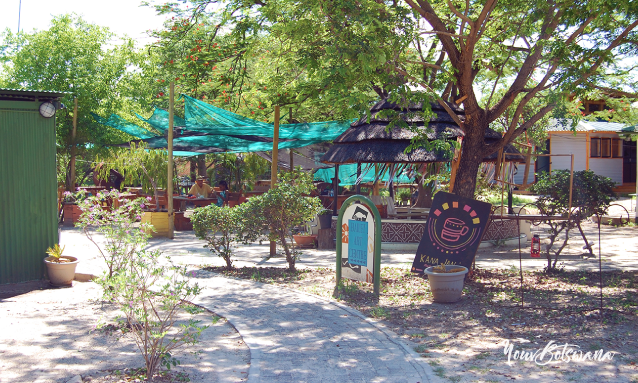 6. Sample authentic local cuisine at Kana Jang Restaurant
Nhabe Museum is housed within the same grounds as quirky little Kana Jang restaurant, which serves divine local food with a modern twist. While you're at the museum, you may as well grab a bite to eat and sample local cuisine at Kana Jang.
---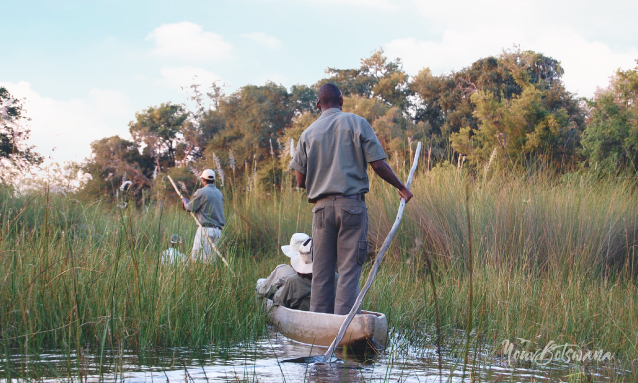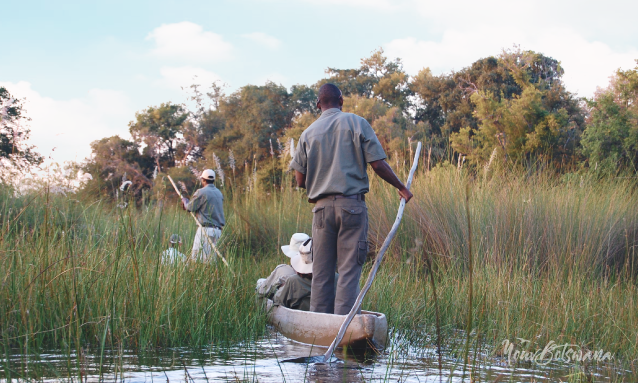 7. Mokoro Trips
Growing up in Maun, my friends and I would ferry each other across the Thamalakane River in dugout canoes (mokoro), and see crocodiles and hippos up and down the river. At the time, we didn't really appreciate this great gift, but it is truly a unique experience worth every penny.
There are a number of communities in and around the Maun area, where people work as 'polers' (people who steer the canoe use a long pole as opposed to paddles, hence the word polers). A maximum of 30 mekoro (canoes) are allowed on each river system at any one time.
Planet Okavango runs a booking system which co-ordinates all the mekoro in the area. They take bookings from a variety of different Maun tour operators (in particular Audi Camp, Delta Rain, Drifters, Bushways, Crocodile Camp Safaris, Quadrum Safaris, Island Safari Lodge and Okavango River Lodge).
Maun tour operators book slots for trips on a first-come, first-served basis with Planet Okavango; and also pay the freelance polers and guides from the community directly. It's a strict rule that there should be one professional poling guide from the villages for every party of up to eight visitors. The rest of the mekoro are usually poled by locals from the different villages that don't have this qualification.
Mokoro trips usually include short walks on the islands. Visitors usually bring all their own food and camping kit, if required. The polers, mekoros and areas being offered by the various competing companies in Maun are all exactly the same. By all means you can shop around for these trips; but in reality, what's on offer is basically the same everywhere, and will cost about the same.
For all of the budget mokoro trips, the operator organising it will drive you here. It takes about 90 minutes to most of the launch sites. You're not allowed to drive yourself here, and these trips must be booked through one of the participating companies in Maun.
You can get further information Maun operators including Planet Okavango, Audi Camp, Delta Rain, Drifters, Bushways, Crocodile Camp Safaris, Quadrum Safaris, Island Safari Lodge and Okavango River Lodge. Some of them even offer a combined mokoro trip with a dry-land safari.
You may see game on these trips, but they are about so much more! The excursion is more about enjoying the experience of being poled along the waterways and seeing some of the birdlife, and water-life up close. You'll want to relax, take a bird book, a pair of binoculars and just enjoy the experience. A mokoro ride offers you the experience of being at one with nature from a very unique angle and is unlike any other.
*You might be best off avoiding January and February; ideally coming between April and November.
---
8. Maun Wildlife Educational Park
The Maun Educational Park has in recent years been at the centre of a feud over ownership between the locals and the government. It has picnic areas that the public can enjoy at no cost. The park was intended for students to learn more on issues around environment, wildlife and conservation outside classroom. The government aims to facilitate through the park environmental education while also providing a recreational and leisure area for Maun people and its visitors.
The park is also used for the training of Botswana Wildlife Training Institute (BWTI) personnel, professional guides from Botswana and other countries as well as researchers. The park is home to animals such as giraffe, wild beast, impala, zebra, warthog, crocodiles and hippos. It also has many different bird and plant species.
---
9. Maun Game Sanctuary
Is on the North Eastern side of the Sekgoma Road, barely 2km from the centre of town. The fenced park is only about 3km long by 1km wide. However, it's a fantastic and easy option for those who want to walk into a scenic area amongst non-dangerous game species and an impressive variety of birds.
The sanctuary preserves the last of the natural habitat that used to be found in and around Maun before goats and people wreaked havoc on its vegetation. It's bordered by the Thamalakane River, which attracts many aquatic bird species, whilst there are also a few open, grassy areas where you'll often spot zebras, wildebeest and warthogs grazing.
Other animal species found here include blue wildebeest, red lechwe, kudu, impala, giraffe, chacma baboon, vervet monkey and a variety of smaller mammals. Most of the larger mammals are very relaxed and it's often possible to walk up close to them. In the summer keen bird-watchers can look forward to anything between 80 to 100 bird species, a stark contrast to 50 to 80 during the winter months.
Bird species to look out for include red-necked falcon, bronze-winged courser, lesser jacana, spotted dikkop, pied and Hartlaub's babblers, yellow-bellied eremomeia, and swamp boubou.
Fish eagles and crimson-breasted boubous are fairly easily seen residents, whilst bat hawks are sometimes seen in the early morning or evening.
Admission: Free – Open 07.30–12.30 and 13.45–16.40 most days
---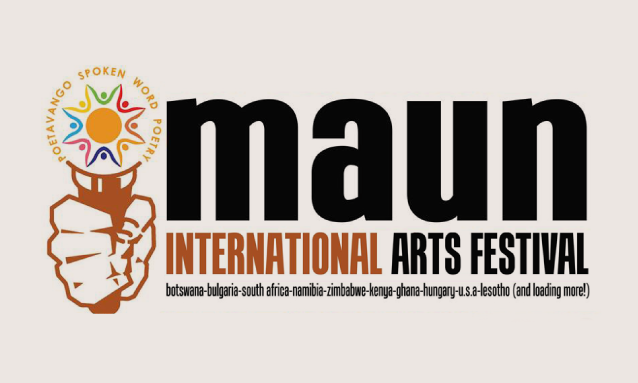 10. Maun International Arts Festival
The festival grew from being a spoken word festival to now encompassing different forms of the arts including theatre, dance, music, poetry, comedy, literature and the visual arts.
The event, which started as a small Maun-based poetry event, is expanding to include more of the arts including dance, fashion, film, comedy and theatre.
The festival has been developed and expanded in many ways. Some of the critical objectives of the activity are to promote and market local literature, films, poetry and theatre, encourage and showcase published Batswana writers, filmmakers and poets as well as create interactive platforms between writers, readers and publishers.
Other events have included school talks, sessions at the public library, workshops, inter-school poetry slam and motivational talks in local schools. There have also been cultural nights, which have seen many rising artists, traditional music and Setswana praise poetry gracing the stage.
The festival usually takes place in October. The 2016 event was the 6th and lasted eight days. Legodile Seganabeng, the chairperson of Poetavango Spoken Word Poetry, has previously said:
"We also want to grow Botswana literature and the culture of reading and writing."
The festival has also drawn participants from South Africa, Zimbabwe, Namibia, Lesotho, Zambia, Uganda and Ghana, and as further afield as the United States of America, Bulgaria and Hungary. Previous festivals have received support from the government through the Department of Arts and Culture, Brand Botswana and the American Embassy.
NB: There is currently no information about this year's festival, but keep visiting YourBotswana; we'll bring you all the information as and when it becomes available.
---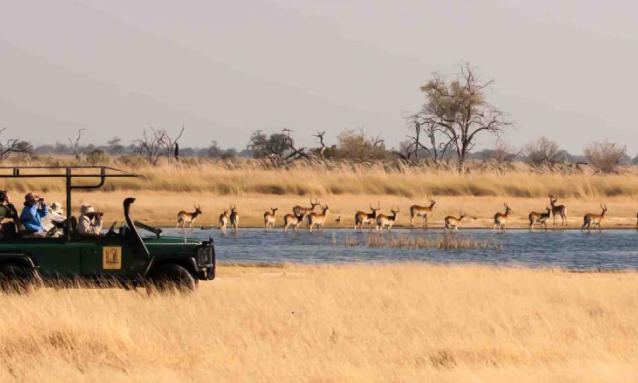 11. One Day Moremi Mobile Safari
The Old Bridge Tours and safaris one-day Moremi mobile safari runs from 6 am to 6 pm at The Old Bridge. The safari, done in a semi- open Safari Cruiser takes you far into the Moremi Game Reserve.
What the excursion includes:
Pick up from wherever you are staying in Maun
Light breakfast, picnic lunch and a 2-litre bottle of water
Moremi game Reserve fees
Drop off at your place of accommodation in Maun after the excursion
What they recommend you bring:
A hat and sunscreen (all year)
Warm clothes (May – August)
Rain gear (November – April) – can be provided, subject to prior arrangement
Any other drinks you prefer other than water
---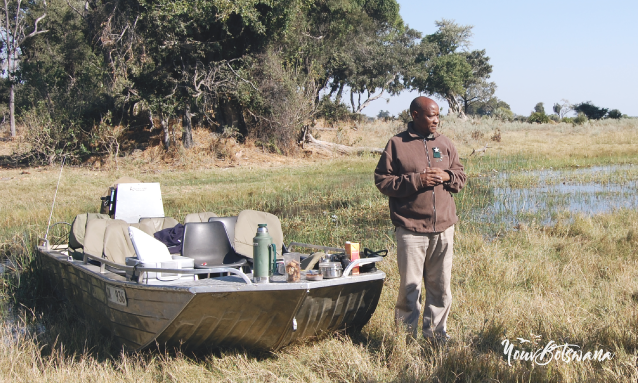 12. One Day Okvanago Boating Adventure
The Old Bridge Tours and safaris also offer a one-day boating adventure. Your one-day Okavango adventure starts at 8 am and ends at 5 pm at The Old Bridge. It is conducted in a semi-open aluminium boat and takes you up to Nxaraga Lagoon in the Moremi Game Reserve.
Please see the above for what the excursion includes and what they recommend you bring. For further information, please visit – https://africansafaribotswana.com
---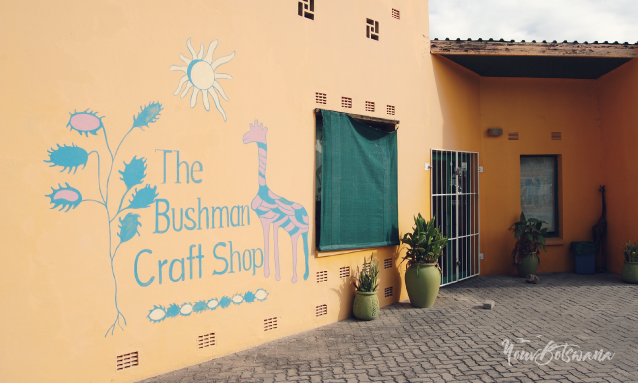 13. Visit the Local Curios Gift Shops
Straight off the plane, you can walk into several curios/gift shops directly opposite! There's also a quaint little curios store in the area called Jazellas crammed full of gorgeous clothes, jewellery, African crafts and curios, postcards. All the gifts shops sell similar items but also different stuff, enough to offer a lot of variety for souvenirs and gifts to choose from.
---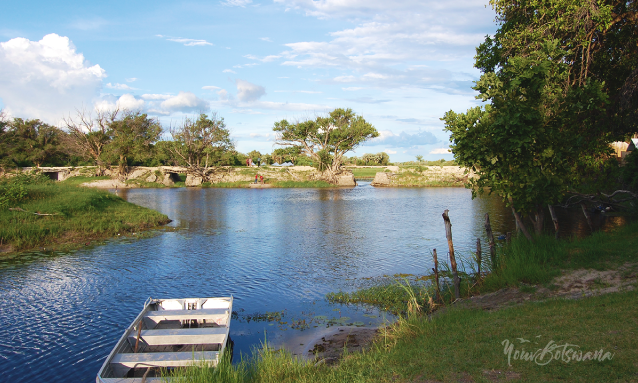 14. Hang Out at Backpackers
The Old Bridge Backpackers, a very well known and popular with both locals and visitors, lies 10 km out of Central Maun. It overlooks what has come to be known as the 'hippo pool' because of the high number of hippos that pass through the body of water.
The Backpackers has a popular bar set between old, weathered lead-wood logs. Evenings are dimly lit with good music floating through the air (the bar opens at 11 am and closes at 9 pm).  You will always find a fire on a cold winters night and a cosy TV lounge that may be used on request. It also offers delicious bar type food.
Borne out of the sense that there are people who choose to travel independently rather than pre-booking package tours, "The Bridge" provides a comfortable base from which you can enjoy the varied amazing sites and activities that this region has to offer.
It has a limited number of campsites for travellers with their own tents, a few of which are drive-in sites. There is one site for larger groups. They have 10 furnished tents made up as either doubles or twins. 5 riverside tents have en-suite facilities. The 5 tents without en-suite facilities are set back from the riverside.
For those who prefer to self-cater, there is a convenient and fully equipped kitchen. There are open-air hot showers and flush toilets built from natural materials situated between the main building and the cam site.
---
15. Maun Horse Racing
Every year, more than 10 000 people enjoy Maun cuisine, fashion and horse racing at the Mascom Derby. Second only to the Toyota Kalahari Botswana 1 000Km Desert race in terms of turnout, the Mascom Derby is the biggest Easter Holidays sports event in Botswana, bringing thousands of visitors to Maun.
This exciting race day brings together over 70 Tswana and Thoroughbred horses and 60 Jockeys hosted on a 1 350 – metre horse track.  The competition focuses on the 800m, 1000m, 1200m, 1400m, 1600m and 2400m races between Tswana Breed and Thoroughbred Horses.
The Mascom Derby, which dates back to 2006, is the highlight of Maun Easter Holidays, with dignitaries and tourists coming in from different countries around the world to join in the excitement. The event brings together competitors from around the region like Namibia, South Africa and Lesotho.
Horse racing is believed to be part of the rich local tradition and stemmed from the idea of Maun being a town reputed to be Botswana's hard living "Wild West Town". The 4th April 2015 event at the Shashe Race Track is said to have attracted well over 15,000 spectators.
The horseracing event was going for a few years but weren't successful until local network provider, Mascom came on board, hence the name. The event has previously included activities such as boat cruises and a tour of Maun town and is very family friendly.
---
Reference: BOPA / https://africansafaribotswana.com / http://www.botswanatourism.co.bw
Pictures credits: Helicopter scenic flight by Dana Allen (via http://www.xoprivate.com) / Moremi Game Drive by Russell Gammon