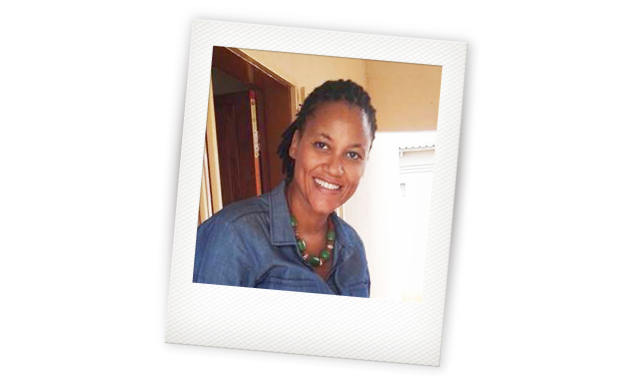 Dumelang! I'm Tiny 'Mtinos' Coetzee, I'm a 34 year old Motswana and here's my profile. Olerato is my Setswana name, which means 'the loving one'.
I'm self-employed with experince in retail and market research. I have a general convenience store called Timefront in a village called Letlhakane, which is situated in the north of Botswana. With Tiny 'Mtinos' basically what you see is what you get. I'm not sure how other people would describe me, I think everyone has different opinions about me. Most of my friends and relatives say I'm kind hearted and loving, a small percentage say I'm heartless and ruthless. Both groups are correct, simply put I react to my environment.
I enjoy reading, both factual literature and fiction and I enjoy travelling. I also have to walk or drive in the bush at least once a month otherwise I feel restless. Where do I think (or hope) to see myself one year from now? Physically, I see myself in Botswana of course, professionally I hope I would have opened another branch of Timefront.
My Background…
My home village is Maun (Botswana), which is heaven on earth; everything about Maun is spot on… except the heat and mosquitos of course. I currently live in Tlokweng, in comparison to Maun, Tlokweng is so different; from the culture to the environment. Maun has a river and lovely vegetation; picnics are a must when you are in Maun. My favourite spot in Maun is opposite the park because you see wild animals, especially in the afternoon. Tlokweng on the other hand doesn't have a river, or wild animals so definitely no picnics. It's on the outskirts of Gaborone so basically life is in the city; from shopping to hangout spots… unless you don't mind hanging out at a bar.
I had a blast growing up in Botswana. I grew up in Lobatse and Francistown, so during the holidays my family would travel to visit relatives in Maun or the southern part (Gaborone to Good hope) and sometimes South Africa. I met different characters and learnt a lot from them. Now with this technology leap a lot has changed. I cannot interact with my son or niece because they are always on phones playing games. It's a foreign thing to me and such a big thing for them; they are only 5 and 7 years old.
My mother was my inspiration. She was the living embodiment of 'carpe diem' – Horace would have been impressed. My mother lived life to the fullest and she believed straight talk didn't hurt a relationship. People might be surprised to know I am a good hairdresser (I twist my own dreadlocks). I'm bad news in the kitchen, I can whip up the best curry ever and I'm a very good interior designer.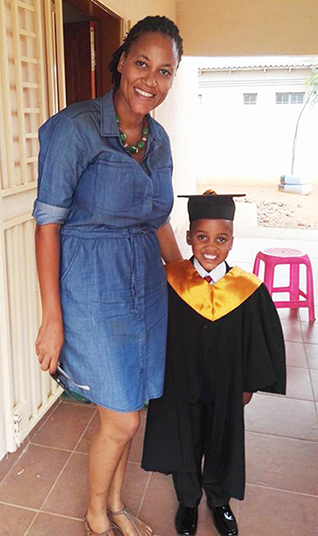 My son Riley is my greatest achievement. I think parenting is the most complicated thing a person can do. There's no manual and yet you have to pass. There are no breaks or time out and everyone has opinions on how you should raise a child. I have to do it right for him and I think I am.
Botswana…
I'm a proud Motswana because I love my country – my culture is the best. There may be some issues, but I feel we are okay. Our culture will humble any visitor; it humbles me on a daily basis. The one thing I love is the greeting system; strangers greet each other; be it at church, hospital or in a combi/taxi. The fact that a stranger will take a couple of seconds to greet you and ask about your health is humbling. It has taught me to appreciate the little things we do in our country. There's also this concept that if a stranger asks for water you should give him some even if it's your last drop.
If I could change anything about Botswana I would give my countrymen and women creativity (if i had it in truck loads). Many Batswana are copycats and they are deeply rooted in their stance, unashamedly so. Everytime I see those "nzamela" ladies (countless street vendors) and their umbrellas along the road all selling the same thing, I just shake my head.
I have visited many places in Botswana during my travels growing up and as an adult. I enjoy Letlhakane (where my store is); it's a village near Orapa and it has this Maunic feeling – which could explain why I like it. Gantsi was not that nice, it was very windy. Palapye is one place I enjoyed when I spent a night there once. It was the first time I had stayed there, even though I have regularly passed by the village throughout my life.
I am ashamed to say I have not been to Kasane or the Okavango Delta, but I have to correct this grave error ASAP. I would love to experience a boat cruise in Kasane at sunset, I've heard the sunsets are breath taking. I want to visit the Delta to see the beauty I keep hearing about and seeing in brochures.
I would like to visit Mozambique, I've heard there are white sandy beaches. Egypt is another country I would love to visit; I have to see the pyramids and the Sphinx. I don't know why, but I'd like to visit Rwanda, it's a dream I have and maybe I would see some gorillas while I'm there 😉
Botswana celebrated 50 years of Independence last year (2016), going forward I hope unemployment and poverty in Botswana are eradicated. It's a terrible thing that is gripping most of my fellow Batswana.
YourBotswana…
I discovered YourBotswana through the founders. It's a lovely website, it's the first of its kind in the country, so I love it. I have always felt Botswana has a lot more to offer besides tourism, and even if it's tourism, the emphasis is Maun and Kasane. Matsieng's footprints (in southern Botswana, not far from Gaborone) is a heritage site that is lovely to see and experience, yet it receives very little coverage. I can't wait to see how the website unfolds as time goes on.
In as much as I enjoy the posts, I've actually enjoyed the 'Our Botswana' photo galleries the most. I took part in the "Friends of YourBotswana" competition because I want to raise awareness about the website and be part of it. There's nothing I can think of that I would like to see covered, I haven't really thought about it, but I think the website is fine as it is.
Thanks for reading my profile.