Lets' face it, travelling anywhere foreign can be pretty nerve – wracking. But some countries are safer than others, and that includes Botswana. For instance, over 42,000 British nationals visit Botswana every year and most of those visits are trouble free. Attacks on tourists are rare, but you should always remain as vigilant as you would anywhere else in the world.
---
Crime
Although it's rare to hear of attacks on tourists, petty and violent crimes are on the rise, especially in major towns. The types of crimes you'll likely hear of are 'snatch and grab' incidents, robberies and house burglaries.
Have your wits about you in car parks, as theft can occur in those areas. Petty criminals have also been known to target cars at traffic lights; with the intention of smashing windows and grabbing handbags, phones, gadgets and whatever else they can get their hands on.
---
Theft
Theft is not a big problem in Botswana. In fact, Batswana take a dim view of thieves and will often take the law into their own hands to bring perpetrators to justice. It's common for crowds to descend upon the supposed thief and give him/her a thorough beating. Having once been witness to one such incident, it's very upsetting and not something most people would relish watching.
*Please note this video contain graphic scenes of violence, which may be upsetting for some viewers.
This practice is especially worrying when you consider people can often get carried away and cause irreversible harm to the individual being disciplined. My concern is always about the possibility of there being a mistake in the identification of these thieves, and worse still, the beating being so violent that it results in death. If you do come across such an incident, be sure to stay well clear to avoid getting upset or worse still, getting caught up in the madness, risking injury to yourself.
---
Safari Camps/ Lodges
Rooms in safari camps and lodges in the bush don't often have locks; such is the level of safety and trust! Very little if any theft happens in the lodges. Even still, it's always prudent to keep your valuables safe at all times. Most safari lodges provide safes in which you can lock important documents and valuables.
If you do believe anything of yours has gone walkabouts while on safari, be sure to report it to management as soon as possible. However, I've known of a few incidents where a guest was adamant they'd had something stolen from their room, only to later find it. So to save your blushes, do be absolutely 100% sure before you report items stolen.
Botswana has some of the wildest parks and reserves in Africa, with no fences to prevent wild animals moving freely. Given this, there's always the chance of accidents happening. However, obeying the basic rules and guidelines set by your guides and safari lodge/camp management will ensure your safety.
While staying at a lodge, observe all the rules issued by the management team and your guides. While the wild animals are cute and it's fascinating to be within such close proximity to them; it's worth remembering they're not pets, they are wild and can be very unpredictable. Avoid wandering off on your own, or trying to pet or feed the animals. You can never overstate the importance of listening to advice given by the staff in relation to your safety.
Avoid swimming in rivers and lakes; not only are some teeming with crocodiles and hippos, which can be very temperamental and ill-tempered', there's also the risk of water-borne diseases such as bilharzia.
---
How Safe Are You In Botswana?
Botswana is not a dangerous country and has in fact been regarded as being safer for visitors than the UK, USA, or most of Europe. If you are travelling on an all-inclusive trip and staying at lodges and hotels, then problems of personal safety are extremely rare. People are friendly and always willing to help.
If you're on a tight budget and have to rely local public transport, even then you should still be safe. Taking precautionary steps to stay safe and being sensible will mean you are most unlikely to ever be a victim of crime in Botswana. For women travellers, especially those travelling alone, it is doubly important to learn the local attitudes, and how to behave acceptably. This takes some practice and a certain confidence. Overall, you should take the same precautions for your personal safety that you would in your home city.
---
Terrorism
There is a low threat from terrorism, but you should be aware of the global risk of indiscriminate terrorist attacks, which could be in public areas, including those frequented by expatriates and foreign travellers. But other than that, Botswana is a very low-risk area for acts of terrorism.
---
Local Laws and Customs
Be sure to find out and familiarise yourself with what is and isn't acceptable in Botswana to stay to the right side of the law. Drug taking and smuggling are serious offenses in Botswana, and the punishments can be severe.
Taking photographs or using video equipment near military and government installations is prohibited. Always ask permission before taking photographs of people in Botswana.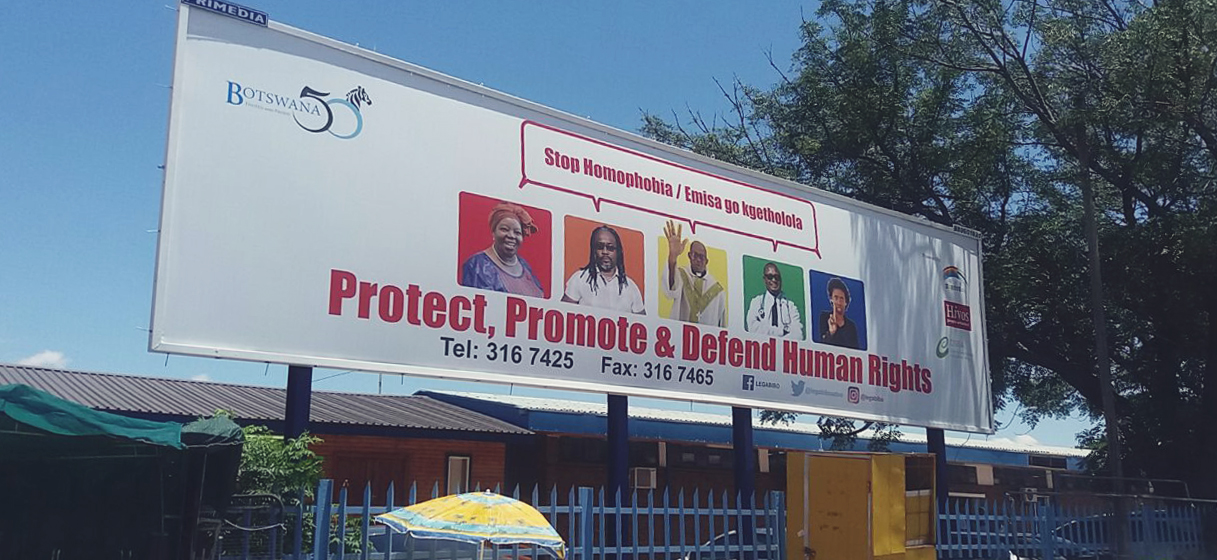 Homosexuality, both gay and lesbian, is illegal in Botswana. Many Batswana being Christian; have strong views on homosexuality, with some openly admitting to being homophobic.
However, what sets Botswana apart from many African states as regards homosexuality, is that although Batswana may not like homosexuality, they do tolerate it. You won't hear of homosexual people being persecuted, let alone being killed in Botswana.
Botswana employment laws forbid workplace discrimination or dismissal on the basis of a person's sexual orientation. With that said, the law prohibits public displays of affection between homosexuals. Arrests on the basis of being homosexual are virtually unheard of, but it's always prudent to err on the side of caution.
Botswana is committed to its tireless fight against poaching. It's illegal to buy, sell, kill or capture any protected wild animal or trade its parts. Those caught hunting, purchasing or trafficking such goods will face the long arm of Botswana law and severe prosecution.
---
Entry requirements
Click here to read more about Botswana's visa requirements.
---
Passport validity
Your passport should be valid for a minimum of 6 months from the date of entry into Botswana. The Botswana government has stated that dual nationals using two different passports can only enter the country on the same passport they used to exit the previous country.
---
Health
Visit your health professional at least 4 – 6 weeks before your trip to check whether you need any vaccinations or other preventive measures.
Healthcare in Botswana is decent in major towns, but in rural areas medical facilities and communications can be limited in rural. State hospitals charge foreign nationals a small fee. Although the service is decent, the queues are the last thing you want to experience, especially when you're feeling under the weather.
You're best off arranging adequate travel health insurance and accessible funds to cover the cost of any medical treatments abroad. If you fall ill on safari, safari tour operators generally have measures in place for emergencies.
Hot Tip! British nationals – BUPA health insurance is widely accepted by private practices in Botswana!
---
Money
Some banks accept travellers' cheques. ATMs are widely available in major towns and larger villages, but most only accept Visa. Maestro cards are not generally accepted. Major credit cards are accepted at many shops and restaurants in towns. You can't exchange Scottish or Northern Irish bank notes in Botswana.
Although some safari camps do offer cash back, this service is not available in Botswana.
---
Reporting thefts to the police
If you are the victim of a theft you need to report it to the. Also, request a copy of the police report, or at least a reference number on letter-headed paper, as this will help you to claim on your insurance policy when you return home. Some insurance companies won't act without it.
Foreign arrests are uncommon, although that doesn't mean you won't get arrested if you blatantly flout local laws. There's no paranoia about foreigners, who are now generally seen as welcome visitors who bring money into the economy.
If you find yourself in the unfortunate position of being detained by law enforcement agents, avoid at all costs flying off the handle and displaying elements of arrogance because you'll likely get thrown behind bars so fast, you'll suffer whiplash for days!
---
Bribery
The Botswana government clamps down heavily on corruption, so bribery is not at all common in Botswana. There may be pockets of it, but the government's stance is zero-tolerance on corruption. Do not think of offering or being talked into getting involved in acts of bribery, because it could land you in very hot water with the law.
---
Hot Tips! 
Some of these are universal tips that apply wherever in the world you are.
DO avoid taking shortcuts to anywhere. Rather go the long way round and keep to populated areas like the main road.
DO avoid walking around after dark. Women, in particular, should never go anywhere on their own after dark.
DO avoid lugging around expensive valuables in less populated area. Also, avoid carrying huge rucksacks around, giving the impression that you have something of value in them. Carrying plastic carrier bags might be the better option.
Don't panic – Locals are likely to tell you all sorts of alarming stories about crime in Botswana. While some of them are true, the other half can be a little exaggerated.
Do opt to live on a housing complex with 24-hour security to live. Besides the presence of security personnel, there's safety in numbers!
Never leave valuables in an unattended car, as you may come back to find a window smashed and items stolen.
Do avoid putting your bag and valuables in your lap while in a car; rather put them on the floor and as far out of sight as possible. If driving at night or the wee hours, it's advisable not to stop too long at a traffic light. You are encouraged to quickly clear your route and drive on as soon as you've determined you're clear.
Do keep your windows wound up and doors locked.
Do keep copies of important documents such as your passport in a separate place.
---
Do you live in Botswana? Please feel free to comment with any suggestions you may have and information about how you stay safe.
Picture credit LEGABIBO billboard: Motlalepula Chika.
Crocodile video courtesy of Jed Fidler.
YouTube video posted by: UTV Ghana Online