The majestic sculpture of an elephant at the Sir Seretse Khama International Airport may not be to everyone's one taste, but I really like it!
It stands bold and proud in the middle of a circular, woven basket; the patterns of which were inspired by traditional Setswana decorations. It's hard to miss, located between the departures and arrivals gates, facing the main entrance. It's a female elephant navigating treacherous terrain characterised by boulders of hard rock and dry grass. It's the first and only known elephant sculpture made out of pure ivory in the whole world.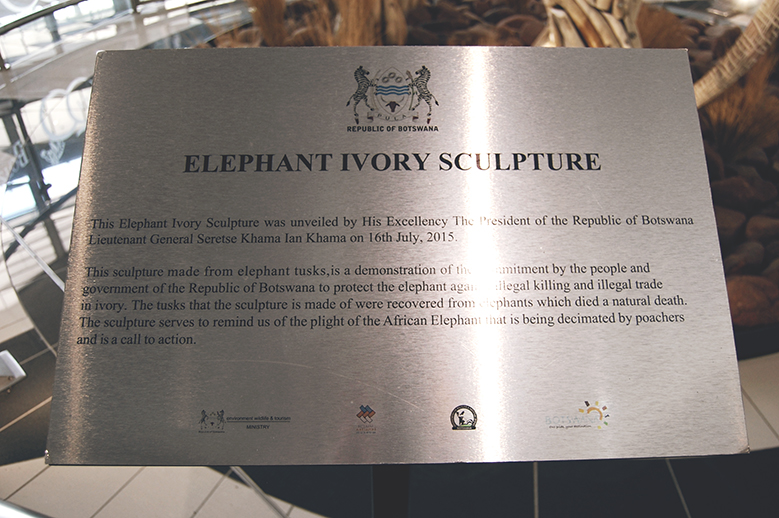 President Khama said of the sculpture at the unveiling in 2015,
"This work of art intends to raise our collective consciousness about the plight the African elephant faces today."
He further said,
"The placement of the sculpture here at Sir Seretse Khama International Airport is highly symbolic as it represents the international dimension or magnitude of the illegal ivory trade."
The sculpture made local and international headlines. It split people straight down the middle, so you could say it's like Marmite. The piece of art is believed to have been commissioned by the Office of the President. Thapong Visual Arts Centre in Gaborone was subsequently engaged to find the most suitable artists to come up with a monumental piece of art. The artists who were ultimately chosen were:
Isaac Chibua
Wailer Motsu
Kelebogile Marope
Gosego Motlogelwa
Kealeboga Ramogotsi
Galositse Metlhaleng and
Joseph Piet
Interestingly, two of the artists had never seen an elephant before except on TV and in pictures. Marope, the only female artist in the group, said the elephant had always been her favourite animal. None of the artists had ever worked with ivory before.It took six weeks to complete the sculpture under strict government guidelines and a tight deadline.
The unveiling of the artwork coincided with the 2015 African Elephant Summit, which was hosted in Kasane.
Reference: MmegiOnline