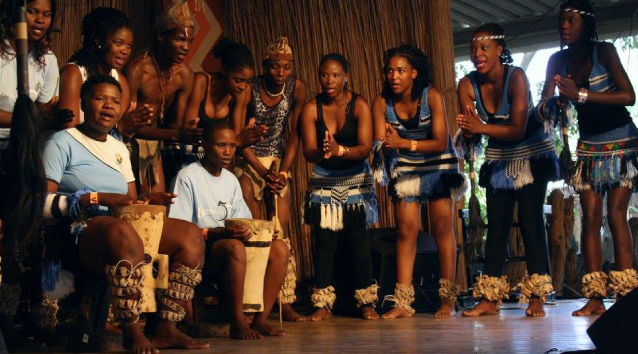 Image source: Botswana Craft (Facebook)
One of the most celebrated and anticipated cultural events comes to Botswana Craft on May 6, under the theme A re ipele ka dijo, mmino le kapari: Pula matsorotsoro, kotla masiela, kotla dirojana.
Orange Letlhafula, which marks its fifteenth year this year, is a popular annual cultural event celebrating Botswana's diverse culture through music, dance, food, drink, and traditional games. Over the years, the attendees have gone all out to enjoy the event by getting dressed to the nines in their best traditional outfits and descending upon Botswana Craft in their thousands.
Carol Kgafela, Orange Botswana's Public Relations Officer said in an interview that the event has grown in leaps and bounds over the years to become one of the must attend cultural events on the annual events calendar.
"The event now features two stages; more food and a wider range of cultural activities," she said.
Ms Kgafela said that as is the norm, the event is set to offer attendees an unrivalled outdoor festive experience in celebration of this year's bountiful harvest.
"The event is in line with our Setswana culture of celebrating and being thankful for a good ploughing and harvesting season, hence our theme for this year," she said, adding that it has been a good year for Botswana with the recent rains, which translated to a good harvest.
She continued;
"This year's theme celebrates the good rainfall and the great harvest which naturally means that there will be a lot of food for everyone. It is not just about the food or music but rather about experiencing everything under one roof. We are about taking you back to the good old days of sitting under a tree and enjoying cultural foods, playing Setswana games and listening to traditional music and since it is not an exhibition, we encourage full participation from our patrons."
Ms Kgafela said that at the moment they are happy with the way the event has run and the annual turn out.
"We are always open to feedback from our patrons because it allows us to improve and ensure that the event is top notch and gives everyone in attendance a true cultural experience," she said.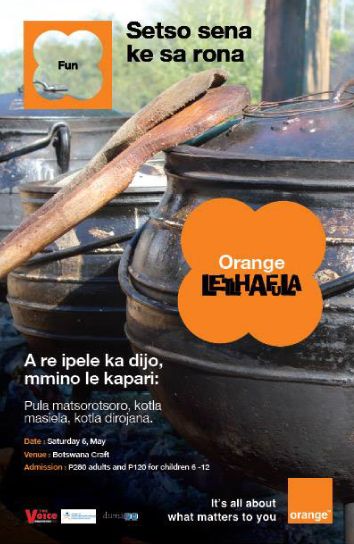 The event is scheduled for 9am-5pm and the tickets are available from Botswana Craft.
Tickets retail for P280 adults, P120 for children aged 6-12
---
Are you going to the Orange Letlhafula festival? Have you attended it before? What for you keeps you going back, what would you tell someone who's going for the first time to look out for? Please share your thoughts with YourBotswana.
Reference: BOPA