We at YourBotswana are excited to bring you news that the Motswana actor and playwright, Donald Molosi is about to release a film titled We are All Blue.
In 'We Are All Blue' (2017), modern Botswana is seen through Donald Molosi's eyes, the only Motswana to have ever graced Broadway and won awards for his efforts.
We Are All Blue follows on the success of Molosi's 2-play book, which forms the basis of the film – Motswana: Africa, Dream Again and Blue, Black and White, which received rave reviews from various reputable websites such as GoodReads and Amazon as well as across various blogs. It can't be a bad thing that the film also comes hot on the heels of the movie, A United Kingdom, in which Molosi made an appearance and which continues to put Botswana on the map.
---
Donald among Mail & Guardian's list of 50 Batswana Change Makers.
---
Who exactly is Donald Molosi?
Molosi is an award-winning actor and playwright, who was the first Motswana to appear on Broadway. As far as we know, he remains the only Motswana to have ever graced the much-coveted Broadway stage.
As a playwright, Molosi has won numerous awards including the Robert Potter Award, the Dilling Yang Prize and the Sir Seretse and Lady Ruth Khama Brilliant Spirit Award. He is also the Founder and Artistic Director of Folk Tale Theatre Company, Botswana's leading arts ensemble. Molosi divides his time between Botswana, US and UK.
What many will probably not know is that Molosi appeared in the movie A United Kingdom, in which he plays the character Kabelo, alongside two of Britain's finest; Emmy Award-nominee David Oyelowo and Academy Award-nominee Rosamund Pike.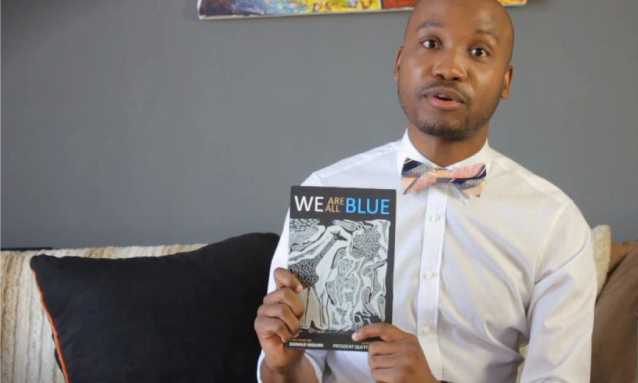 For the 'We Are All Blue' (2017) film, Molosi embarks on a journey to discover more about himself, his people and Botswana, the country he calls home. He believes that in order to create your future, you need to understand your past – and this is what he sets out to do.
At the beginning of the documentary, Donald returns to Serowe, his ancestral home and the seat of the Bangwato tribe. He reflects on the fact that Botswana is home to the most ancient people in the world; the Khoisan. Through Serowe, Molosi also traces the story of Sir Seretse and Lady Ruth Khama, Botswana's inaugural first couple whose interracial marriage in the 1940's shook the British Empire and set the tone for a non-racial Republic of Botswana when the country became independent in 1966.
In the documentary, Molosi explores some fundamental questions about identity and belonging, about being a Motswana, and about the contradictions inherent in the country he loves. Towards the end of the film, he reflects on how far Botswana has come in the 50 years since independence, but also on how far it still has to go – and what needs to be done to regain and maintain Botswana's reputation as Africa's success story.
The film features Molosi's insightful conversations with other notable Batswana including Former Deputy Secretary-General Mrs Mmasekgoa Masire-Mwamba; Kgosikgolo of Batawana Kgosi Tawana Moremi II; and Former President of Botswana, Sir Ketumile Masire. The first teaser, that you can view below was released online and all social media under #weareallblue on April 16, 2017.
---
Did you enjoy this article? Please share and continue to help YourBotswana put Botswana on the map. Please feel free to share your thoughts too.
Source: heysta.com