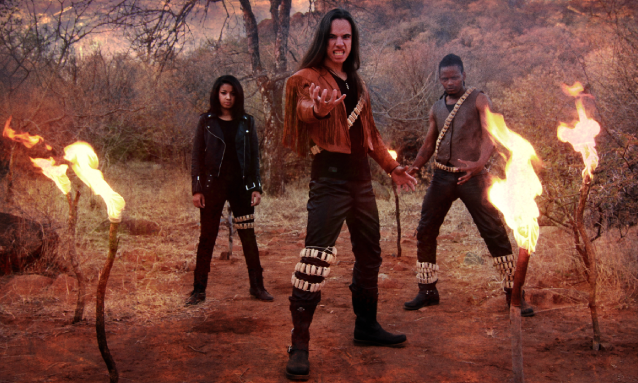 Not many people will know that Botswana has a rock band. Botswana's music industry compared to the rest of Africa, is very much still in its infancy. While a lot of emerging 'stars' are focusing on African rap, and few are carving out a niche in African jazz, even fewer do rock.
Among the few rock outfits in Botswana are the band, Skinflint. Skinflint is a three-piece African Heavy Metal band consisting of Giuseppe Sbrana (Guitar/Vocals), Kebonye Nkoloso (Bass) and Alessandra Sbrana (Drums). The band has over the years embarked on successful tours and headlined shows across Africa and Europe.  They have also played alongside international acts such as Carcass (UK) and Parlotones.
The band's music has been considered to be the pioneering example of blending traditional Heavy Metal with African Lyrical concepts, as well as musical theory. The lyrics address a wide range of subjects from traditional ancestral beliefs and African Mythology. This has helped the band receive global exposure and as a result, CNN has even made the journey to Botswana to interview them.
The band performed GAUNA after the interview, which was aired worldwide on both TV and the CNN Internet site. Skinflint has previously won the 2 "Annual African Metal" awards for general excellence and best Metal player of the year.
In 2013 the band performed several local concerts and embarked on a successful Swedish tour in October-November 2013. Having made international strides, "DIPOKO" topped the African Metal Charts as song of the year. In 2014 the band released their 4th album, "Nyemba," which received favourable reviews, and was voted Botswana Metal release of the year by GMA.
This year, Skinflint continues to make waves in the world of rock music, as the just performed at The Shadows Show 2017 that took place in the Netherlands, Luxembourg, Germany and Switzerland.
The World Tour, which gathers heavy metal artistes worldwide, is an annual event that started on Wednesday and ran until March 18. Skinflint was expected to perform alongside My Own Ghost, a metal group from Luxembourg, founded in 2013.
Skinflint was also scheduled to support Tarja Soile Susanna Turunen-Cabuli, generally known as Tarja. The Finnish singer-songwriter, lyrical soprano artiste with a vocal range of three octaves, was expected to unveil her new rock album, "The Shadow Self" released in 2016.
Skinflint releases Iklwa, Gauna, Dipoko Nyemba, and Chief of the Ghosts pay homage to African spirituality and mythology. The band has in recent months signed up with worldwide agency metal music bookings.
Reference: BOPA
Image credit: www.audioinferno.com/bands/skinflint
Video courtesy of Seeker Stories