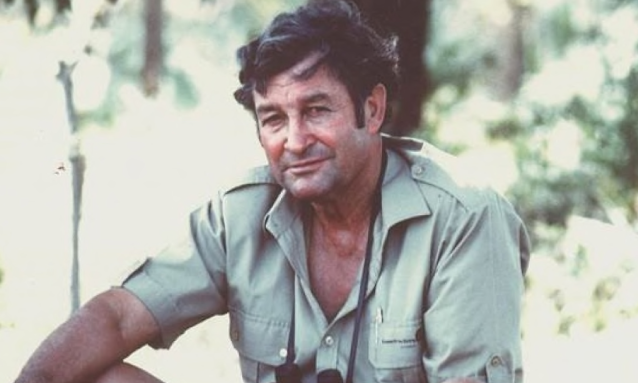 Harry Selby, one of the last of Africa's renowned white hunters, who took rich and famous safari clients into the interiors of Kenya, Tanganyika and Botswana for a half-century to shoot game, photograph exotic wildlife and search for elusive adventure in the bush, died last Saturday at his home in Maun, Botswana. He was 92.
In his later years in Botswana, safaris went out for just a few weeks and focused as much, if not more, on photography as on hunting, although Mr. Selby preferred hunters. Photography buffs stayed in hotel-like lodges and went on day trips to scenic sites. More adventurous hunters and photographers were flown to rendezvous points and driven in Land Rovers to fixed camps elaborately equipped with electric power, refrigerators, flush toilets, hot showers, kitchens and dining facilities with silverware and table linen.
"Africa itself has changed out of all recognition, both physically and politically, and the old-time self-contained safari would have no place to go in today's Africa," Mr. Selby wrote for Sports Afield in 2010, when satellite phones, computers and helicopters made life easy for the busy executive on safari.
"There are hunters today," he added, "who would prefer to have experienced the sense of freedom of an old-time safari, as I am sure there were those who went on safari many years ago who would have preferred something along the lines of what is offered today. The two experiences are as different as night is from day; the only feature common to both is the name … that magical word, 'safari.'"
---
John Henry Selby — Harry was his universal nickname — was born in Frankfort, South Africa, on July 22, 1925, the youngest of six children of Arthur and Myrtle Evelyn Randall Selby. When he was 3, his family moved to a 40,000-acre cattle ranch near Mount Kenya.
---
Surrounded by a game-rich countryside, the boy learned to hunt from an old Kikuyu tribesman.
"He taught me to use my eyes and ears as well as my nose, and to be patient in order to remain motionless for long periods of time waiting for an animal to come within range," Mr. Selby told The American Rifleman.
Mr. Selby attended local schools, travelling by ox cart, and later the Prince of Wales, a boarding school in Nairobi. After World War II, he worked for Mr. Percival, who recognised his potential as a hunter-guide, and in 1949 he joined East Africa's foremost safari outfitter, Ker & Downey, based in Nairobi. In 1956, after Mr. Ruark's book had made him famous, he formed his own safari company, Selby & Holmberg.
In 1962, after Kenyan independence and political upheavals dimmed prospects for safaris in East Africa, he accepted a partnership in his old company, which became Ker, Downey and Selby, and in 1963 moved as its trailblazer to Bechuanaland, a British protectorate that became independent Botswana in 1966. It was a hunter's — and a photographer's — paradise.
"What we found exceeded our wildest expectations — a land which the passage of time had passed by, where nature had remained unchanged in the 20th century," Mr. Selby said in an interview with the New York Times. "The vast savannas were teeming with huge herds of elephant, buffalo, kudu, zebra, wildebeest and sable. Lions were everywhere, showing little fear of man."
For 30 years, Mr. Selby ran company operations in Botswana, and guided hunters and photographers into leased concessions covering thousands of square miles in the Okavango Delta in the north and the vast Kalahari Desert in the south, home of the click-talking Bushmen. He cut tracks and built airfields in the wilderness.
In 1970, he established Botswana's first lodge and camps for photographic safaris. He hired guides and a large support staff for what became a dominant safari business in Southern Africa. After Ker, Downey and Selby was bought by Safari South in 1978, he remained a director, and even after resigning in 1993 he continued to lead safaris privately until retiring in 2000.
In 2007, President Festus Mogae of Botswana awarded Mr. Selby the Presidential Certificate of Honor in recognition of his contributions to hunting and photographic tourism.
Mr. Selby is survived by his wife, daughter and a number of grandchildren.
RIP Harry.
For the complete article: https://www.nytimes.com/2018/01/20/obituaries/harry-selby-dead.html
Image by Cliff Woerner