Jazz lovers are in for a right treat when the widely popular and much anticipated Annual Hamptons Jazz festival returns for the 5th edition on March 24. It's to be held at Duma FM Grounds.
Speaking in an interview, event organiser, Debbie Smith said last year they didn't hold the festival because they hosted it twice in 2016. She explained that they needed more time to put their ducks in a row in order to bring fans 'show stoppers' to this year's show.
"People should know that we are only three-years-old and it is very hard to host such a big event while struggling to secure sponsors.

We initially thought of hosting it at the beginning of October or during the last weekend of September last year but unfortunately, one of the main acts that we earmarked could not make it for those dates and their fees were also a bit steep.

For example, one quoted US$60,000 (about P600,000)" she said.
---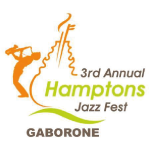 This year music lovers can look forward to being serenaded by music heavyweights such as the legendary British crooner Billy Ocean, Mali's Salif Keita and South Africa's Amanda Black and Zahara.
Other musicians set to entertain scores of music lovers are Lesotho's Bhudazza and South African siblings, Nathi and Amanda Makanyi.
Botswana being no slouch these days, will have solid representatives in jazz maestros such as Socca Moruakgomo, Nnunu Ramogotsi, Thabang Gaorogwe as well as popular Shanti Lo, Thato Jessica, Ndingo Johwa and A.T.I.
---
"We have also decided to have an all local MC line up with the ever so suave, Resego Motlhokathari, the bubbly Zenzele Hirschfeld and the witty Losika Seboni," she said.
Debbie further said Hamptons Jazz Festival had always wanted to cater for the older and mature generation, adding that it does not mean those who do not fall within that target audience cannot attend the show.
"Music unites people and if there are youngsters who enjoy Billy Ocean's music, why not have them also in attendance and just have a good time with everyone.

That is also why we chose the MCs because they appeal to and transcend both target audiences," she said.
Fans of the festival will be over the moon to learn that there's currently a 'couple's ticket promotion' priced at P899 that comes with two free t-shirts. The promotion runs until the end of February. Debbie highlighted that the early bird tickets, which were P399, have sold out. Tickets are available at Avani Gaborone Resort & Casino, Liquoramas across the country, Engen shops and online at www.webtickets.co.bw.
Reference: BOPA
Images courtesy of The Hamptons Jazz Festival Facebook page