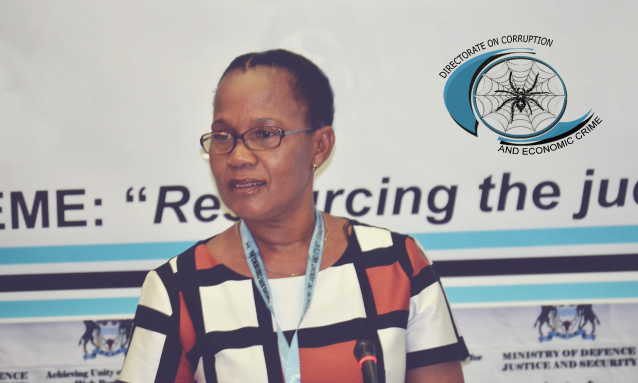 The Directorate on Corruption and Economic Crime (DCEC) Director General, Ms Rose Seretse says the institution investigates every corruption allegation without fear or favour.
Speaking before the Parliamentary Accounts Committee (PAC) recently, Ms Seretse said no one is beyond reproach, dismissing reports that said otherwise as baseless.
She indicated that since it was established, the DCEC has changed the landscape of corruption in Botswana.
"We used to see a lot of bribery cases, and in recent years corruption has become highly complex and sophisticated," she said, adding that the DCEC had seen a lot of land scam cases.

"In 2016, we investigated twenty-six land related cases and usually, it balloons into other cases such as falsifying land deeds and the manipulation of land allocation systems," she said.
She noted that they had also seen cases of highly inflated prices in the procurement of goods and services, especially in government tenders. Ms Seretse further said the leaking of confidential procurement information had also been an issue the DCEC has grappled with.
"One finds that when tenders are at the evaluation stage, some third parties are already privy to who will be awarded the tender, a problem we need to address," said Ms Seretse.
She further said the anti-corruption agency had seen an increase in the acquiring of illegal driving licenses.
"We have noticed a trend where people go outside Botswana to acquire driving licenses, usually through illegal means. They then come back and go straight to the DRTS to convert them to Botswana driving licenses," she said.
She indicated that they had recommended that people who do this should go through the normal testing procedures, and be tested as though they were acquiring their driver's licence for the first time. Additionally, Ms Seretse said the whistleblowing legislation is now a law and that people who wish to report corruption practices should do so freely.
"The law protects whistleblowers from being fired from work, helps us protect them through law enforcement officers if we feel that the person's life may be in danger and also protects employees from victimisation, among other things," she said.
She said they have also raised concern with regards to the Corruption and Economic Crime Act, especially sections that speak of conflict of interest.
"We believe that conflict of interest is very narrow and should be broadened to include people such as nieces and nephews. Now it only involves one's immediate family and we feel it should also include one's siblings and their children," she said.
Specially elected Member of Parliament, Ms Bogolo Kenewendo asked the Director General to shed light on how the DCEC choose the corporations it audits and to also touch on whether there had been investigations on both private and public tertiary institutions with regards to the accreditation of courses.
In response, Ms Seretse said for the DCEC to decide to audit institutions, they look at their case management system to determine how many reports they had received against those institutions.
"Basically if we see a lot of case reports of a particular institution, we feel that there is a need to establish and solve whatever it is. There are also ongoing investigations concerning some tertiary institutions on issues of accreditation," she said.
Reference: BOPA
Image source: DCEC Facebook Page