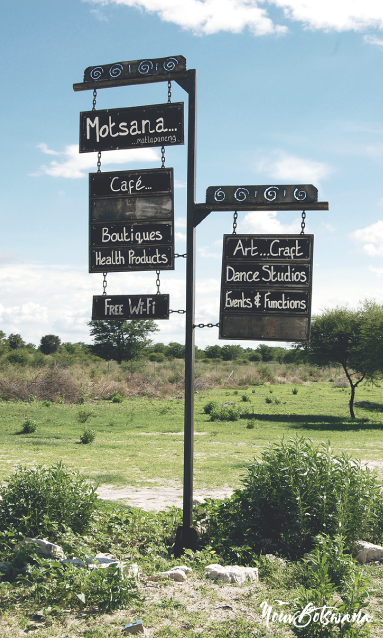 We spotted the eye-catching Motsana Cultural Centre building from the road on our way to some nearby lodges. I guess you could say although I'd heard about it, I'd never been and we really stumbled across it. It's just outside Maun, on the Moremi road before the Audi Camp turnoff. So it makes for a nice little trip away from the centre without being too far.
I'd heard good things about Motsana and couldn't wait to visit and write a rave review on my blog. Well, I was quite taken with the unique and quirky structure. Alas! Motsana didn't quite meet the expectations of the rave reviews I'd seen.
On arrival, we saw a lady who was clearly a member of staff there, but sadly wasn't bothered to acknowledge or welcome us to Motsana! She worked her way around us quite a few times and blatantly froze us out! I found that rather rude and very unwelcoming. As soon as we saw it and decided to swing by, we thought it would be nice to stop off for a coffee and maybe a light snack on our way to our lodge crawl, but were rather put off. So we bought a couple of items in the curios gift store and made a quick exit. We didn't stay long enough to explore the quirky little stores at Motsana.
I put the reception down to a bad day; after all, we all have them from time to time. I'd like to go back one day and fingers crossed; it'll be a better experience. The building is unusual, but interesting unusual. It'd be very hard to see it from the road and not want to branch off to have a proper look. So in spite of our weird experience, I'd still urge you to give it a try.
A Little More Information About Motsana
The two-storey Moroccan-style building on the road to Shorobe is one of Botswana's more innovative cultural spaces. Motsana has an arts cafe, a few curios gift shops which also sell photographic prints and textiles, a gym, a travel agent, health food store and hair salon. During the summer the centre also runs movie nights every Thursday evening at 7 pm as well as dance classes. Movie nights offer a novel experience, as you get to watch movies out in the open, under star – studded African skies, from the comfort of plush chairs.
There's a live theatre, which hosts all manner of community events. Motsana hosts a monthly Sunday Farmers Market, which usually takes place on the last Sunday of each month. The Farmers Market offers local fresh produce and crafts made in Maun.
However, unlike other lodges in the vicinity, Motsana doesn't offer much in the way of scenery.
---
For more pictures of Motsana, click here.